This Review Reveals Minor Details About the Plot.
The Happy Has-Been and the Written-Off Writer
Plot Overview
Has-been pop singer Alex Fletcher (Hugh Grant) has seen better booking days. As for his romantic aspirations, they run the gamut of: physical attraction ("I so get that"), to inviting her over ("from time to time, ladies accompany me back to the apartment,") to living together ("give her the key.") His manager and friend Chris Riley (Brad Garrett) is divorced on account of "Susan's affair and raging nympho­mania." Marriage is not in their sights, though a musical comeback might be.
Manhatten-born, thirty-one-year-old Sophie Fisher (Drew Barrymore) is a graduate in literature from New School University on Long Island. Her writing career is on hold after she was jaded by a professor she studied under who forgot to mention his fiancée studying abroad who came home for a surprise[!] visit. Sophie's acquired a European out­look on casual sex ("the one time we slept together [was] totally professional,") speaks fluent German—while hating the Nazis,—and eats holding her cutlery in the European manner—knife in left hand, fork in right. Her older sister Rhonda (Kristen Johnston) has "been married sixteen years, but nothing's written in stone." Her brother-in-law Gary is a "good man" who married this pushy woman not unlike his mother; she is the unchal­lenged mistress of their home. Maybe Sophie can revive her writing career, but she doesn't seem to have a good role model for marriage.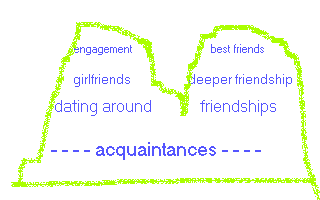 Successfully focused teen singer Cora Corman (Haley Bennett) is too inexperienced at love to realize it's normal to go through a number of brief ("almost two months") flings before finding something more lasting, so she's pouring her soul into a new number titled, "A Way Back Into Love." As homage to the '80s groups she wants one of them to compose the song and accompany her with it in a duet at Madison Square Gardens. It would be a big boost to Alex's career, but he needs a lyricist for the words. Enter Sophie and there's potential, but if their blossoming love is to go any­where, Cora will have to work a little magic from her end.
Ideology
True love never runs smooth, and its tortured path is represented in a Proverb tracking creatures on land, sea and air: (Prov. 30:18-19) "There be three things which are too wonder­ful for me, yea, four which I know not: The way of an eagle in the air; the way of a serpent upon a rock; the way of a ship in the midst of the sea; and the way of a man with a maid." We get similar visual cues in this movie.
"The way of an eagle in the air" corresponds to Cora's helicopter winding up and taking off ("We gotta book.") Alex and Sophie will seem to take off in their love affair.
"The way of a serpent upon a rock" corresponds to a gauntlet of mimes stationed on a stair­case at a party. People had to go over, under, around, and through them to climb the stairs. Such are the obstacles to this couple's success.
"The way of a ship in the midst of the sea" corresponds to the rides at Adventure Land's Amusement Park. It starts with the water slide (whoosh), moves on to the bumper cars (ouch), and ends up at the merry-go-round ("I'm feeling nauseous.") You get the picture.
Production Values
"" (2007) was written and directed by Marc Lawrence. It stars Hugh Grant and Drew Barrymore who worked well together. Kristen Johnston's character of Sophie's sister was a riot. The rest of the cast held their own.
MPAA rated it PG–13 for some sexual content. The music of the 1980s seems to have superseded the old-time rock 'n' roll that I'm nostalgic for, but the crowds on screen loved it. There are some silly per­for­mances played during the end credits—as if their inclusion in the opening weren't enough. It was filmed in New York City.
Review Conclusion w/a Christian's Recommendation
This is not a complex movie; it could even be called predictable. It embodies Woody Allen values more than family values, and the crowd adulation of the teen idol is, well, idolatrous. Within that frame­work, the story is cute enough to appreciate if you can handle New York culture at a base level. I do recommend actual parental guidance if you let your young teens see it. Other­wise, it's a passable chick flick.
Movie Ratings
Action Factor: Weak action scenes. Suitability for Children: Suitable for children 13+ years with guidance. Special effects: Wake up and smell the 1990s technology. Video Occasion: Good Date Movie. Suspense: A few suspenseful moments. Overall movie rating: Three stars out of five.