I'm not sure if I'd ever heard of Gary Chapman's book Five Love Languages For Singles before a preacher mentioned it in his sermon, but it seems to me he is right that different people communicate and relate to life differently. He gave an earlier example about himself that though he is a preacher he likes to relate as "one of the guys." Not every preacher is on that same page, and it helps us to understand his edition to have been told that about him.
Me, though I am pretty ordinary, I have been trained as an engineer which colors my thoughts and approach to life. Some people can get very offended when not understanding this about me.
A good example might be from a bus trip I was on the other week. The bus was about to depart from the Springfield station when three more people got on. One of the men sat across the aisle from me. He was in the window seat and I in the aisle seat on the other side.
It was time to go and the woman bus driver was about to pull away when he told her there was one more coming. And, yes, there was a woman off in the distance, but the bus driver said she had to go. He told her she should wait, but she told him there would be another bus in fifteen minutes. Then he told her, "She's running," so the bus driver decided to wait.
But it was a fat woman who couldn't run very well, and when she saw the bus waiting for her, she slowed to a waddle. Eventually she got on and the bus was away. She sat down with the man across the aisle from me. Maybe they were married.
The bus driver told her there would have been another bus in fifteen minutes, and she replied cynically that, sorry, she had to use the bathroom, excuse me.
Anyway, as the bus crossed the bridge, she was discussing directions to somewhere off to the side so she started waving her arms up near my head, as I was sitting across the aisle from her. I scootched over to the window to put some distance from her hands. Her husband remarked that I must have been worried that she was going to touch me, and they went on with their animated conversation.
Now, I am thinking that the friendly preacher reading this account would think in terms of a party getting on the bus and encouraging the driver to hold a minute for the tardy one. After she arrived, she entered into an animated discussion with her husband during which she waved her arm to point in a direction past me, but I was so shy that I moved across the seat to avoid being touched. Isn't that more or less how such a one would picture the story?
Now, from my point of view as an engineer, I don't think in terms of the bus--that had to be encouraged to wait--but of a whole transportation system in which those buses leave the station every fifteen minutes. People who are on a critical schedule might plan better than to have to use the bathroom en route, so I suppose a fifteen minute delay would have been tolerable to someone not in a hurry. If she couldn't make it in time, then she could have caught the next one.
But she didn't; she made the bus wait on her and get a late start. Probably it would arrive on time at its destination, but the driver wouldn't want any more delays and might be trying to make up time. In that context her hand waving acquired a whole new dimension. She was so fat that her rear end--next to her fat husband--wouldn't fit all on the seat but half of it hung over into the aisle. Those fingers were being waved in the vicinity of my eyes. Should the hurrying bus have had to swerve in an emergency, she would have been propelled off her seat and her fingers into my eyes. Rather than try to explain to her the bus trying to make up time and her improper load distribution on the seat, I simply moved over some. People don't understand engineers when we talk. They tend to get offended.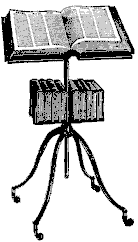 I think the same can be said about Bible versions. The "I want to be just like one of the guys" type preacher will want to use a version that sounds like day to day speech, or is at least consistent with it, so that he will be fitting his message in with people as they would understand it. That is his orientation.
But, me the engineer, I don't think in terms of our one day-to-day language that we have to relate to people in, but in a broader system of languages. When mankind tried to unify his languages into one, God confounded them at the Tower of Babel and now we have not one but many languages, which is how God wants it in order to restrain the unified action of rebellious man. Am I not right?
Within this system we have dialects which are close enough to our day to day English that we can go to one instead and not lose any sleep over it.
Within the territory of a language, wide deviations of dialect may be found ... Such deviations disturb communications, they do not completely disrupt it. And they are, in all known languages, past and present, a constant feature, like archaisms (e.g. in religious or legal terminology)...

--Joshua Whatmough,

Language A Modern Synthesis571
It's like that bus that comes every fifteen minutes, we can use a King James Bible easy enough and get to where we are going.

Then I hear this cry, "But the new version editions use older manuscripts, they've got better Greek." It's like that guy saying, "She's running!" Sure, Eugene is a town of athletes and runners, but a fat woman waddling down the sidewalk is not going to win any race. We have increased our knowledge some of the Greek since 1611, but the Westcott and Hort concoctions which virtually all the new versions use--and even the NKJV compromises with--are utterly horrible. Their Greek scholarship is like that fat woman waddling down the sidewalk, not a contender.

Getting down to the sermon material from the NIV, you know that version has substituted a word for the traditional, i.e.:


And after the reading of the law   After the reading from the Law
and the prophets the rulers of     and the Prophets, the synagogue
the synagogue sent unto them,      rulers sent word to them, saying,
saying, Ye men and brethren, if    "Brothers, if you have a message
ye have any word of exhortation    of encouragement for the people,
for the people, say on.            please speak." Acts 13:15 NIV
Acts 13:15 KJV