In my college days on my co-op work assignment I played my share of poker. I had my share of winnings with the cards I had, never a royal flush though.
Then home on break I was over at my girlfriend Nancy's house. I was like totally infatuated with her. Anyway, these two fellows came over with the express purpose of trying to make me look bad. I had supposedly stolen her from the one, and there was also history between us. I was the big college man, but one of them just got a job, and he flashed his wallet to let us see what his first paycheck netted him.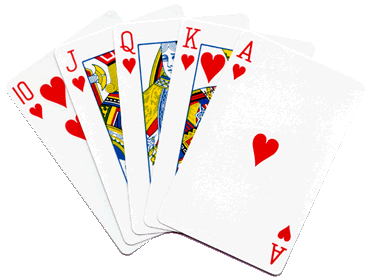 He decided he would play me at poker, so we sat down at the kitchen table, me, Nancy's younger brother and he. It was all nickel and dime stuff. And then ... I was dealt a hand that four out of five cards were lining up for a royal flush (the one in the picture) in hearts. I asked the dealer to replace one of my cards, and I ended up with a royal flush.
The guy might have had a fat wallet from his paycheck, but I was on an errand to pick up something for my grandmother who had given me the cash from her social security check. Now, ordinarily I wouldn't recommend gambling with your grandmother's social security check, but I knew my opponent's bankroll, and I had the highest hand in poker, so I went for it. After his bragging the guy couldn't back down, and I impressed the dickens out of my girlfriend. I was a high roller.
Actually, I got an education from that girl that money couldn't buy. She eventually broke up with me on account of I wasn't seeing other girls at college but was concentrating too much on her, a mistake I'll not make again. One is better balanced playing the field, shopping around, and then absolutely faithful to his pick in a mate.
When I became a Christian after college, I had a deep consciousness of my erstwhile sinful life, including a sin of omission. Nancy had properly broken up with me on a date where she explained her reasons which were valid. I neglected to smooth it over with her brother who idolized me. He gave her a hard time after that, I am sure. I don't think that's how God wants us to treat each other. I know it's not. Sometimes sins of omission can be worse than sins of commission.
After accepting Christ I was really appreciative of His efforts to come get me his lost sheep. Nancy was a "good Catholic" and I saw in that liaison an effort of the Lord to remind me of my spiritual heritage (I had briefly been a Christian in high school). As part of my appreciation to the Lord, I try to see to it that I am dating some nonchristians to maybe help them. It seems such a little thing, but it's important to me, not to omit it if I've got opportunity.
Of course, we judge all our actions by the Bible, and I know enough not to date someone from a class I could never marry into, so I wouldn't be doing "missionary dating" unless mixed marriage is allowed.
Paul in 1st Corinthians very strongly allows mixed marriage--where you have a spouse, your spouse isn't saved, and your spouse is content to stay with you. Then he goes on to the variations: where you have a spouse, your spouse isn't saved, and your spouse doesn't want to stay with you. You are to let him or her depart as God has called us to peace. Where you have a spouse, your spouse gets saved and stays with you, naturally. And the final in the series is implied where you don't have a spouse yet, your espoused isn't saved, and your espoused is content to stay in the relationship. There every man is to remain as he is called and in the distribution he's been given, Paul ordaining it so in all churches.
Of course that's what they had to have been talking about as in their culture one is called to be married to so-and-so to cement relationships between and within families, and to keep the distribution of wealth likewise. A new sister I knew from Singapore having been engaged for nine years was in approximately that same situation, ordained by Paul, when her fellowship group convinced her from their (NIV) bible to break up with her unsaved fiancé, and she mentioned her complaint to me. I was sympathetic enough to try to do something, late though I might have been.
In practice that meant belonging to a Chinese church for a number of years so I could learn how they regarded marriage and such. In the end I found when we studied 1st Corinthians (in the native English speaking group with people from Singapore included) that the NIV twists Paul. The translators didn't particularly understand the culture he was addressing in the first place, when they tried to put it into modern terms, and then when Paul who elsewhere cautions against a widow marrying wantonly against Christ, makes the necessary caution that she is supposed to marry only in the Lord--as opposed to wantonly against Christ--they paraphrase that to say she is to marry only somebody belonging to the Lord. Completely against what he earlier ordained for all churches! And with the group's (NIV) "Bible" saying that, they could not be convinced otherwise, not by me and certainly not by a new convert unversed in the scripture.
Now, how was I supposed to do anything about Zondervan twisting Paul?
Eventually I joined a men's TLC group at church studying a book published by Zondervan recommended to us by the assistant minister. And what do you know, it used a Disney song as a major theme for a whole chapter without crediting the source, much less getting permission. I wrote to the editor to complain and he sent me back a letter admitting what they did, even referencing the song which I couldn't quite place.
My complaint still stood, only in our continued study of the book we found that the author then twisted the Disney song in a way that puts down men, and especially put down Mr. Walt Disney himself. It was like something out of Mad magazine. Really! My continued complaint had a couple witnesses from the men's group.
I had a clear case, I had presented it to Zondervan, and then before a couple witnesses, and I had an admission from their publisher. See what I am getting at? It's like being one card shy of a royal flush. If I could somehow get the case presented to the church at large as a witness, then I could demand satisfaction or else per Matthew 18 treat them like a heathen or publican in which case I could take them before the unbelievers and have Disney sue them.
Come current events class and we went over the way the Salvation Army in California was having to give benefits to unmarried (homosexual) couples in order to receive some state grants. We concluded in class that they were guilty of disobeying the injunction to not be unequally yoked together with unbelievers.
Soon a grass roots movement started to boycott Sally because of it. Why, here I had the third witness of the church that they wanted that injunction obeyed, not messed with as some like Zondervan do, applying it to marriage which Paul was not talking about. I only needed the least esteemed in the church (grass roots movement) before going to the unbelievers, and there I had it. It was just a matter of having the cajones to play the hand.
Guys like to impress girls. They will even do favors for them if they've been asked to. Ordinarily it would not be a good idea to bet your grandmother's social security check in a poker game to try to impress your girlfriend, or to try to sue the Bible in order to do some girl a favor. Not unless you have a really top rate hand, which I did.
It's perfectly natural for a men's group to be involved in doing favors for women; that's how men are. If the church wants to close down a men's group after they do so, well, I just go back to the men's group in another church I used to attend. No big deal to me; I'm just trying to illustrate Kenny Rogers' song.
"You've got to know when to fold 'em." Some hands are best not played. The king prevents the rising up by acceding to his subjects' wishes. Even though the KJV is superior to the NIV, I don't press the point indefinitely for its use in our services. Doesn't do me any good to get into a dispute with our minister. If he wants to preach largely from the NIV, I just try to follow as best I can from my KJV.
Sometimes it's easier than others. In our 2003 "church in the park-ing lot" service, he did use the old versions which were better. Be that as it may, we've been tackling the Book of Acts, chapter by chapter in church. Eventually we got to where the King James version says, (Acts 4:36-37) "And Joses, who by the apostles was surnamed Barnabas, (which is, being interpreted, The son of consolation,) a Levite, and of the country of Cyprus, having land, sold it, and brought the money, and laid it at the apostles' feet," and the older (1526) Tyndale version put it, "And Joses which was also called of the apostles Barnabas (that is to saye the sonnne of consolacion, beynge a levite, and off the countre off Cipers) had londe, and solde itt, and layde the pryce doune at the apostles fete."