Amplified Bible, King James KJV
encounter biblical prophet
Visiting some Christian friends for dinner one night, I was invited to go with them to a meeting where a real "prophet" would give little speeches to various individuals. I told them I had been to a meeting like that once and while one of his little speeches seemed applicable to me, the zealous saints gave me no end of trouble trying to force on me an application of another which didn't. Furthermore, I'd be late getting home. They offered me a ride home and talked me into going. I title this story:
Everybody Else Gets a Little Biblical Message, But Earl Doesn't Need the Encounter with a Prophet Because he's Found his in the (KJV) Bible.
So after dinner a brother was trying to recall the words of a biblical song: "A day is better than ..," and he couldn't think of them. I said, 'Is it, "For a day in thy courts is better than a thousand."
Yes, that was it, and he asked me if I knew the song. I said, no, never heard the song, but that was from David, one of the Psalms.
We arrived at the meeting and I said hi to a sister I knew from another church, actually a woman preacher--which I don't really countenance, but I was happy to see her. Then that brother came over with his wife's Bible opened to Psalm 89, and he asked me to find that passage for him. It was King James which helped, so I proceeded looking through the psalms one at a time, until I got to Psalm 119 then realized I'd have to go backwards from Psalm 89 down to encounter it back there.
As I was flipping through the pages, the "prophet" was coming down the isles greeting people, seeming to delight in just being there. I had got down to Psalm 85 when he got to me, and I said, "For a day in thy courts is better than a thousand."
He replied with a heartfelt "Amen!"
I had thought with him being a "prophet" that he would immediately perceive my quest and say, "Yes, my son, that is from Psalm ..., which means such and such," giving me an enlightened lecture. But then I thought a heartfelt amen is probably all the comment necessary to delighting to be in the courts of the King. He didn't add anything to the word, nor did he take anything away. Isn't that what we're supposed to do?
So I asked him if my quote wasn't from David, the Psalms. He said yes, it was. Which one? I asked. We'll see, he replied and pulled out a worn plastic thing from his pocket and flipped it open.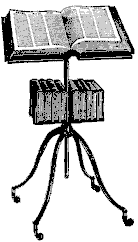 Oh, it was a Franklin electronic Bible. I said I'd left mine at home, so he handed it to me and told me, you look it up. Well, his was one of the newer compact models. I like mine better, the first edition with a large screen. His had a tiny screen with a series of menus to scroll through. One difference between his and mine is he carries his in his pocket and it is showing heavy wear, while mine, I keep in pristine condition in a special box on a special shelf in a temperature and humidity controlled environment. I don't tote it around to whip out every time I encounter a Bible question.
Anyway, I looked up the verse to find it was in Psalm 84. I told the brother that we'd almost encountered it, being on Psalm 85 counting down. But then I looked at the Bible and found that the verse in question was on the top of the page, end of Ps. 84.
Being proud of my ability to manipulate an electronic King James Bible's search feature, I told the brother that I couldn't have found it without that device. He laughed and told me I already had it and walked off with his open Bible.
I thought that was pretty peculiar behavior for a "prophet," that to a Bible quote, he just says amen, and in answer to a Bible question he simply hands me a Bible and says, you look it up. I mean, what's the point of even having prophets if Bible answers don't get amplified? Why not just use the Bible in the first place?
Then the service got underway. We had some hearty singing, and then he preached from the Amplified Bible, even though he had a KJV in his pocket. Man, that Amplified Bible is wordy.
He explained his religious belief saying that it's more important to have the right Spirit than to have the right doctrine. "If you have the right Spirit, you will end up with the right doctrine. But if you have the right doctrine but the wrong spirit, you'll eventually have the wrong doctrine." Don't ask me to explain what that means, but I've encountered examples of people starting out okay, but where they end up is another story. One example is the minister who becomes a revolutionary, the spirit of the revolution coloring his whole dogma.