Sexism
and God Talk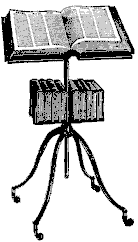 I heard a fine sermon Sunday, April 9, 2002, which started by stating that agreement requires two parties. Edwin Newman in his book A Civil Tongue,151 where he argues forcefully for better English, in a rather sarcastic monologue, his chapter "A Fatal Slaying of the Very Worst Kind" satirizes "all this redundancy to which Americans have become addicted. It is typical of American English that enough is almost never enough.
... "The New York Times [said], 'The White House recommended for the Middle East, mutual compromise.' ... As for mutual compromise, there is no other kind. This is true as well of mutual cooperation, which must be mutual if it is to be co. One-sided cooperation has been tried and found wanting, usually falling short by 50 percent. An example is the Rose Bowl pact ... which remains firm, the Tournament of Roses Association assures us, [because of] 'similar athletic philosophies and mutual cooperation.'
"Mutual cooperation requires a mutual agreement. ... An announcement from Kensington Palace [said] that '... the Princess Margaret, Countess of Snowdon, and the Earl of Snowdon have mutually agreed to live apart.' Evidently it was a mutual agreement for a mutual separation."
Anyway, since compromises, cooperation, agreements, and separations, are all mutual by definition, it's redundant to call them mutual in our speech, which is essentially the first point of the sermon that an agreement has to have more than one party.
Newman's book tackles other redundancies: "The director of music programming and recording for Muzak said, 'We at Muzak avoid using ... any ... kind of music for the purposes of entertainment. Ours is functional music, sonorous design to humanize man-made environments.'
"Muzak does indeed avoid using music for the purposes of entertainment. On the other hand, a man-made environment is by definition human; you cannot humanize it."152
The author is using sarcasm here to try to help us improve the civility of our language by pointing out questionable constructions. The feminists also use sarcasm to point out questionable constructions, but theirs is a narrower focus, on issues concerning women. Sometimes the two overlap. From Rosalie Maggio, A Dictionary of Bias-Free Usage : "One of the most rewarding side effects of breaking away from traditional, biased language is a dramatic improvement in writing style. By replacing fuzzy, overgeneralized, cliché-ridden words with explicit, active words ... you can express yourself more dynamically, convincingly, and memorably. ... The word manmade, which seems so indispensable to us, doesn't actually say much. Does it mean artificial? hand-made? synthetic? fabricated? machine-made? custom-made? simulated? plastic? imitation? contrived? Communication is--or ought to be--a two-way street. A speaker who uses man to mean human being while the audience hears it as adult male is an example of communication gone awry."153