I think there's a misconception about what we're attempting to exchange for what. The NIV and its ilk want to update our English from 1611 until now, and they put forth an effort to do so, but the KJV dialect is older than that and more valuable for having been incorporated into the hearts & minds of the English-speaking people for six and a half centuries. It's like:

"Like the RAF in the Battle of Britain. Their problem wasn't so much Spitfires and Hurricanes. It was experienced pilots. Every civilian who got killed in London meant a load of bombs that should have been dropped on airfields. The Germans had the RAF on the ropes and switched from attacking airfields to cities."
Lawrence bit into his sandwich again, wondering where this led.
"Well, my point is," Bennett continued, "that nothing's changed. Even with limited numbers of high-priced birds, it's a lot easier to produce a fighter plane than a proficient fighter pilot. It takes, what? Eight to ten months to roll out an airplane from the factory? It takes about five years to put a combat-ready pilot in that bird's cockpit."39
But wait, isn't the whole idea of coming out with the NIV to make an easier-to-understand English? That's nonsense. I was a member of Shiloh Youth Revival Centers, the largest Christian communal organization in the history of America, and we were not for the most part scholars. We were an organization of disenfranchised youth with our share of high school dropouts. All we used was the King James Version, no problem. One fellow didn't even know how to read so he taught himself to read form that Book. I remember our Bible studies going through Acts in the KJV with about 130 young people whose English was way behind that at this current church and we didn't need any NIV.
Then I went to a Chinese church for a few years where they had a bilingual service, and they'd give the Bible readings in both Chinese and NIV English. When the Chinese version was being read, I'd read the KJV and then compare it with the NIV. The NIV never seemed easier to me, Sunday after Sunday, month after month, year in, year out.

At the intersection of Bible Boulevard, Madi$on Avenue and Wall $treet, there are many crooked turns of the truth. Advertising campaigns create a cloud of confusion, calling the KJV "obscure, confusing and sometimes incomprehensible," while they crown the NIV's "clarity and ease of reading" and the NASB's "contemporary English." Christians are coerced by full color ads written to color the plain facts by advertising, not English majors.
The Flesch-Kincaid research company's Grade Level Indicator betrays the strictly black and white nature of the issue showing the new version's true colors. The KJV ranks easier in 23 out of 26 comparisons. (Their formula is: (.39 x average number of words per sentence) + (11.8 x average number of syllables per word) - (15.59) = grade level. The first chapter of the first and last books of both Old and New Testaments were compared. (All complete sentences, whether terminating in a period, colon, or semi-colon, and all incomplete phrases ending in a period, were calculated as 'sentences.')

                      KJV       NIV      NASB      TEV       NKJV
                  Grade     Grade     Grade     Grade     Grade
                  Level     Level     Level     Level     Level
          Gen. 1      4.4       5.1       4.7       5.1       5.2
          Mal. 1      4.6       4.8       5.1       5.4       4.6
          Matt. 1     6.7      16.4       6.8      11.8      10.3
          Rev. 1      7.5       7.1       7.7       6.4       7.7

          Grade
          Level       5.8       8.4       6.1       7.2       6.9
          Average

To extend the inquiry, one each of the three book-types (Gospel, Pauline epistle, General epistle) were surveyed. The resulting data confirms the readability of the KJV.

                                              Good
                   KJV      NIV      NASB     News     NKJV
                                              (TEV)
         John      3.6       3.6        4.2       5.9       3.9
         1:1-21

     Galations     8.6       9.8       10.4       6.7       8.9
         1:1-21

         James     5.7       6.5        7.0       6.0       6.4
         1:1-21

Why is the KJV easier to read? The KJV uses one or two syllable words while new versions substitute complex multi-syllable words and phrases. The perceived difficulty has to do with adjustment to the Bible dialect. Remember [per Marsh] that a sacred dialect had been developed for our English Bible. Others confirm that it is a separate Bible dialect, as opposed to, say, a 1611 dialect.40

---


... he had previously obtained a sight of, and was soon convinced that the whole book was the work of some skeptic in England, in imitation of the language of scripture.41

---


In the case of the hymns, a different technique has had to be adopted. The hymns are written in the style of the Biblical Psalms; but to the composer this style was a conscious archaism, while it fell on the ears of the reciters with the same effect as does the language of the Anglican Prayerbook or the King James' Version upon the modern churchgoer. The only feasible way of reproducing this effect is to fall back on 'Biblical English.' Readers who may be irritated or impeded by the 'howbeits' and 'whiloms' and the like need only to be reminded that the original reciters were, in all probability, just as much put out by the plethora of rare and recondite words and by the artificial manipulation of Biblical 'tags' in which the authors indulged. But to smooth this out would be to lose the flavor; it would be like trying to make Lyly talk the language of Housman. And, after all, do not the English Bible and the Prayerbook Psalter have to retain the infuriating 'Selah', even though no one has the faintest idea what it means?42
That sounds about the norm for dialects.
Within the territory of a language, wide deviations of dialect may be found ... Such deviations disturb communications, they do not completely disrupt it. And they are, in all known languages, past and present, a constant feature, like archaisms (e.g. in religious or legal terminology)...

---

The distinction between kindred dialects and kindred languages is a matter of degree. The test is intelligibility. When communication is disturbed between speakers, we say that we have to do with related dialects; when it is completely broken, related languages. Thus the speakers of standard English and German are mutually incomprehensible; but speakers of standard English and that variety of English known as 'Lowland Scots' understand one another well enough even though at times they may encounter difficulties.43
Generally we understand the KJV well enough even though at times we may encounter difficulties. Communication is disturbed, not disrupted, so we don't need to retranslate it as if it were a different language we couldn't understand. We go back to the passage: (I Peter 5:1-11) "... Humble yourselves therefore under the mighty hand of God, that he may exalt you in due time: Casting all your care upon him; for he careth for you. ..." After we've humbled ourselves in not exalting our own current dialect above the Bible dialect developed by our elders of old, we cast our care on the Lord who helps us master it, through study and prayer, through helps, and also through our ministers who know it better and preach from it. "Be sober, be vigilant; because your adversary the devil, as a roaring lion, walketh about, seeking whom he may devour: Whom resist steadfast in the faith, knowing that the same afflictions are accomplished in your brethren that are in the world. But the God of all grace, who hath called us unto his eternal glory by Christ Jesus, after that ye have suffered a while, make you perfect, stablish, strengthen, settle you. To him be glory and dominion for ever and ever. Amen." It's a steady process that works while we are being careful not to let this valuable Book in valuable form get stolen form us. It is funny how the new versions all compare themselves with the KJV saying they improve upon it, not with each other so much; as if it is the KJV only that is being supplanted, not the newer versions.
Outside, he discovered that some worthless criminal wretch had broken into his Suburban during the night. The suitcase and Book-of-the-Month selections were gone. The creep even swiped the Kleenex, the chewing gum, and the breath mints from the glove compartment.
Incredibly, the thief left behind the most valuable items: the collection of hardcover first editions of Caesar Zedd's complete body of work. The box stood open, its contents having been explored in haste, but not a single volume was missing.44
As an engineer uses a model to discern the workings of a complicated system, I was once part of a multi-denominationally derived church whose members, all but the pastor, used the KJV. I was able to get a clue about the transition when the pastor defended using the RSV so as not to partake of the spirit of conformity. That was the beatniks' cry, not to conform, right about the time the RSV came out, and carried into the hippies "do your own thing" our whole society has been transformed. Yesteryear we were so conformed it would be hard to imagine all the different Bible versions being used that we see now.
In his book, McCleary says he spent the past eight years working on it because "I contend that the hippie era was the intellectual renaissance of the 20th century." He knows that some may believe that romanticizing an era "that produced rampant free sex and drug usage and contributed to the breakdown of conservative family values does not deserve a place in our history."
But what the hippies helped accomplish was, McCeary says, "the emergence of new ideas and experimentation on social, political, religious and environmental issues."45
Now, I'm sure there is some merit to the hippies' point of view, even honoring the body that bears an image of God, but the church might do well to impose righteous limits on it. As an example of true righteousness:
In a remarkable apologia Job vindicates his character further as he reacts to the cutting jibes and unjust accusations of his "friends." He has shunned the evil of adultery; he has acted democratically in his relations to his servants."46
He was democratic with his servants and faithful to his wife, not the converse: "Jack adhered to the lofty view that adultery was merely the application of democracy to love."47 Likewise we want to be faithful to reporting the word of God, not democratic to the point of bringing in ever newer and more inferior versions as our ranks swell with newcomers of undeveloped reading skills. The Bible is a mechanism for us younger to be subject to our elders-of- old who brought it to us, and each to one another in adhering to the same Book. It is only in that each is subject to each other that the elder can go along with a younger if that's a legit enough way to go, and such liberty as all liberty is subject to the criteria, (I Cor. 10:23) "All things are lawful for me, but all things are not expedient: all things are lawful for me, but all things edify not."
Okay, it's a good idea to look and see to what extent Biblical writers employed their liberty to paraphrase, but remember this: "I am a minister, I have been dealing with a canon all my career—the canon of the Hebrew scriptures and that of the early Christian Church—called the Bible."48 Since the New Testament was written by the early church, it does not deal with changes in Greek over time, because there hadn't been enough time for Greek to change all that much. "All of the twenty-seven books of the New Testament were written within about sixty-five years after Jesus ascended back into Heaven."49 The Hebrew scriptures, on the other hand, were developed over time enough for their language to change some. "Over centuries, the Bible fashioned the Hebrew tribes into a nation: Israel."50 Looking at the Old Testament gives us a more precise gauge about dealing with language change. To ignore it is like the chess player leaning over the board so he couldn't see the bottom row; he might play a fine game otherwise, but even a mediocre one may defeat him by developing a threat on that row. Okay, there is one instance of a word change being dealt with by an OT writer: (I Samuel 9:9) "(Beforetime in Israel, when a man went to inquire of God, thus he spake, Come, and let us go to the seer: for he that is now called a Prophet was beforetime called a Seer.)" The old word was defined and from then on the two were used interchangeably, i.e. (II Sam. 24:11) "... the word of the LORD came unto the prophet Gad, David's seer, saying ...," (II Kings 17:13) "Yet the LORD testified against Israel, and against Judah, by all the prophets, and by all the seers ...," (I Chronicles 29:29) "... behold, they are written in the book of Samuel the seer, and in the book of Nathan the prophet, and in the book of Gad the seer," (II Chronicles 9:29) "... are they not written in the book of Nathan the prophet, and in the prophecy of Ahijah the Shilonite, and in the visions of Iddo the seer ...," (II Chron. 12:15) "... are they not written in the book of Shemaiah the prophet, and Iddo the seer ...," (Isaiah 29:10) "... the prophets and your rulers, the seers hath he covered." There are a few places where seer is used all alone: (II Sam. 15:27) "The king said unto Zadok the priest, Art not thou a seer?" (II Chron. 33:18) "... and the words of the seers that spake to him in the name of the LORD ...," (Amos 7:12) "Also Amaziah said unto Amos, O thou seer, go, flee thee away ...," (Micah 3:7) "Then shall the seers be ashamed, and the diviners confounded ..." And, of course, the word prophet is used extensively in the Bible, but even in our secular reading we still grasp the meaning of the old word: "Like a seer I know what's running through his mind—a visit to his mom."51
Then we may follow a progression:
The Old Testament was originally written in Hebrew. ... ¶When the powerful Greek leader, Alexander the Great, conquered the known world of his day, Greek became the universal language. Within two or three generations many Jews, who like others used the Greek language, had lost knowledge of their own native Hebrew tongue. They could speak and read and write Greek but not Hebrew. In order to provide a way for them to be able to read their Old Testament Scriptures, which were in Hebrew, seventy learned Jews, who knew both Hebrew and Greek, translated the Old Testament Hebrew Scriptures into Greek. This translation is called the Septuagint and is often represented by the Roman numerals LXX, which means "Seventy." It was completed by at least 200 B.C.52

---


The Septuagint version having been current for about three centuries before the time when books of the New Testament were written, it is not surprising that the Apostles should have used it more often than not in making citations from the Old Testament. They used it as an honestly-made version in pretty general use at the time when they wrote. They did not on every occasion give an authoritative translation of each passage de novo, but they used what was already familiar to the ears of converted Hellenists, when it was sufficiently accurate to suit the matter at hand. In fact, they used it as did their contemporary Jewish writers, Philo and Josephus, but not, however, with the blind implicitness of the former.
In consequence of the fact that the New Testament writers used on many occasions the Septuagint version, some have deduced a new argument for its authority,—a theory which we might have thought to be sufficiently disproved by the defects of the version, which evince that it is merely a human work. But the fact that the New Testament writers used this version on many occasions supplies a new proof in opposition to the idea of its authority, for in not a few places they do not follow it, but they supply a version of their own which rightly represents the Hebrew text, although contradicting the Septuagint.
The use, however, which the writers of the New Testament have made of the Septuagint version must always invest it with a peculiar interest; we thus see what honor God may be pleased to put on an honestly-made version, since we find that inspired writers often used such a version when it was sufficiently near the original to suit the purpose for which it was cited, instead of rendering the Hebrew text de novo on every occasion.53
This all makes it difficult and iffy for the preacher: "The moral and intellectual nature of man has few more difficult practical problems to resolve than that of following the golden mean between passion for novelty and an ultra-conservative attachment to the time-honoured and the old."54 Be that as it may, we've been tackling the Book of Acts, chapter by chapter in church. Eventually we got to where the King James Version says, (Acts 4:36-37) "And Joses, who by the apostles was surnamed Barnabas, (which is, being interpreted, The son of consolation,) a Levite, and of the country of Cyprus, having land, sold it, and brought the money, and laid it at the apostles' feet," and the older (1526) Tyndale version put it, "And Joses which was also called of the apostles Barnabas (that is to saye the sonnne of consolacion, beynge a levite, and off the countre off Cipers) had londe, and solde itt, and layde the pryce doune at the apostles fete." Since this is the same mechanism whereby the old word seer was defined by the new one prophet—here Barnabas (Hebrew) being defined by The-son-of-consolation (from the Greek55)—, we can compare the two. (Evidently Luke, being a physician, liked to name things; "She'd called him her thirty-four-year-old cynic. Miriam labeled everything. He supposed medicine did that to you."56) Barnabas is used extensively through the NT, but the-son-of-consolation never again, so we see that names are more stable than ordinary words like seer/prophet. Only in one other place is Barnabas called something different, (Acts 14:12) "And they called Barnabas, Jupiter; and Paul, Mercurius, because he was the chief speaker." I guess Barnabas was the strong silent type. Because names are more stable, resistant to change, this gives us a place to look when we hear complaints that the preacher is leaning too much towards novelty. From our own knowledge of naming things, we'd see such a name as part of the bonding process in the church making itself felt, like with policemen, or soldiers, and with a staying power.
Cops always use nicknames for each other. Wexler's is Wex, Sean's, Mac. It's some kind of tribal bonding thing. Some of the names aren't complimentary but the cops don't complain. I know one down in Colorado Springs named Scoto whom most of the cops call Scroto. Some even go all the way and call him Scrotum, but my guess is that you have to be a close friend to get away with that.57

---


The two of them strode back to the kitchen together. Ezra resumed his seat at the kitchen table, and Isaac made a beeline to the Mr. Coffee machine. "Ever wonder about Mr. Coffee's first name?" he asked as he got a mug down from the shelf and filled it. "One of life's conundrums. And another thing: Has it ever occurred to you what a snooty son of a bitch he must be, still going by 'Mr. Coffee' after all these years, after everything we've been through with him? It's so f___ing elitist it just makes my blood boil."
"I think his first name is Joe," Ezra said, but listlessly. He wasn't in the ideal frame of mind for whimsy.
"Yeah, that kind of rings a bell." Isaac put the coffee pot back in the machine and joined Ezra at the table. "Military slang, isn't it? Cuppa joe. I guess he's on more familiar terms with soldiers. Hard to take issue with that. They're out on the front line of democracy risking their lives so we can enjoy the blessings of liberty. Even a pompous ass like Mr. Coffee has to appreciate their sacrifice."58

---


Claudia was puzzled. "What's funny about that? 'The World-Famous Puking Dogs.' What does that mean?"
"That's VF-143. And it's a long story."
"Well, I don't understand. I mean, what kind of group would actually choose an insignia like that?"
...
Bennett said, "Masher, I was telling Claudia about One-Forty-Three's nickname. You were in the squadron; how'd it begin?"
The query startled Malloy from his preoccupation with Claudia's chest. "Oh, the Pukin' Dogs. Well, it all started a long time before I reported aboard, but the original idea was to have a griffin as the squadron emblem." He sipped at his Coors, as if concentrating on the details with difficulty. "One of the junior officers was supposed to make a papier-mâché centerpiece for the commissioning. But he wasn't too good with papier-mâché. He got the griffin's wings all right, but the head sort of drooped and the mouth was open too far. They ran out of time and couldn't do it over, so they had to go with what was ready.
"Well, one of the wives walked in, took one look, and said, 'Jesus, it looks just like a pukin' dog.' And that's what One-Forty-Three's been called ever since."59

---


His advice to expectant parents: Think before you dub. "Remember, you're tagging your child with something that will become a permanent part of his or her identity," he says.60
Let's see if some Bible versions don't upset the balance here somehow, if they are used in this Acts study. "Paraphrases translate the New Testament into the language and idiom of the street scene."61 Living Bible: "For instance, there was Joseph (the one the apostles nicknamed 'Barney the Preacher'! He was of the tribe of Levi, from the island of Cyprus). He was one of those who sold a field he owned and brought the money to the apostles for distribution to those in need." There seems to be a lack of information; I mean, not all descriptions are descriptive.
Sure,"Barney" is a preacher, but what kind of a preacher? If one were to try to emulate his preaching, he'd be at a loss, like that story where a friend of a detective invited him to a lecture without telling him he the detective was the lecturer.

"We've all been waiting so anxiously for you to get here," the elderly woman exclaimed as she glanced down at her wristwatch. "Oh dear, we really do need to get going. You know, everybody is just absolutely dying to hear all the fascinating things you're going to be telling us this evening," she added as she took his free right arm in a firm grasp.
"Yeah, me too," Cellars mumbled.
"I beg your pardon?" She turned, a quizzical look forming on her face.
"I was just saying that Da—, uh, Robert never did tell me what he'd decided on for a lecture title."
"What, you mean he didn't even send you one of his delightful flyers?" ...
"Flyers?" Cellars barely heard the question. He was staring out at the animated faces of the audience, most of whom were still engaged in whispered discussions with their neighbors, trying desperately to remember exactly what Dawson had told him about the lecture. Absolutely nothing about who would actually be giving the lecture, or on what. That much he was certain about. ...
"Oh, that Robert," The woman interrupted his thoughts as she rolled her eyes skyward and sighed heavily. She released his arm to fumble quickly in her tote bag, then came up with a folded piece of paper. "Here, you can have this one." She thrust the paper into his hands, and Cellars, distracted ..., absentmindedly put it into his shirt pocket. Then, without another word, she stepped up to the podium.
...
"In effect, we found our voice, and we will use that voice to send our message to the world!"
Her emphasis on these last words, and the resulting applause, caused Cellars to remember the folded flyer he'd put into his shirt pocket.
"... I understand that he was just reassigned to the southwestern region of Oregon this very week so that he can personally investigate what our state officials are now describing as"—she paused, giving the entire audience a conspiratorial wink and a knowing look—"crimes of a special nature."
Voices began to murmur appreciatively, and a few people clapped, as Cellars drew the folded piece of paper out of his shirt pocket and began to unfold it with a sense of impending doom. But the woman quickly went on, and the room immediately grew silent again.
...
"So given all of that," she smiled brightly, "I think we can all agree that we are especially fortunate tonight that Detective-Sergeant Cellars has graciously offered to share with us his expertise—"
Cellars looked up from the open flyer in stunned unbelief.
"—on how to properly preserve and collect evidence at the point of first contact with our alien visitors."
Before Cellars could say or do anything, he suddenly found himself propelled up to the podium by a fragile but firm hand, then watched with a sense of total abandonment as his silver-haired hostess quickly took her reserved seat in the front row.62
That would be as if you were studying to preach up a storm like the Apostle Paul, then you go before an audience where you're required to preach consolation like Barney the Preacher but you've just figured that out having never read it in your paraphrase Bible. Not big on description in some matters.

Honey, so few men have eyeballs for anything except the profit margin and is the lawn mowed. That was my Captain. A stranger, looking for a child of ours, once asked Marsden to please describe our little girl. Cap went, "Well," and held up fingers of one hand like for counting off the features of his well-loved flesh and blood, "Well, she's kind of ... she's about the size you would expect of a person her particular age and weight. Now her hair is in between brown and not, only lighter, and the eyes ... what are her eyes, honey? —But why am I trying this. Her own mother's standing right here. Men shouldn't have to describe."63
We have the King James Bible. Why should we expect a paraphrase to describe something? And if we were fed the Living Bible on this verse in a comprehensive study of Acts, we would be missing a meaning of the name, which meaning is important.

We cannot understand a society unless we are able to see the meaning of what its members do — and see the meaning as they see it.64

Jung maintains the basic thesis that a society can continue to function effectively only by providing its individuals with meanings in which they can have a living faith. Only then can the psychic energies be directed out into the world and into the socially productive enterprises which a community requires. If a culture fails to maintain psychologically effective symbols, its individuals withdraw from the social areas of life and turn into themselves in search of new meanings.65
In the end we cannot allow The Living Bible to be our serious frame of reference in church. We know that anyway, but Acts 4 supplies a quick and easy chapter and verse to verify it.
Many people have difficulty understanding the plays of William Shakespeare because the language they're written in is old-fashioned. Now, for the first time, the youth of America can fully appreciate the beauty and significance of his works as MAD66 , in its campaign to bring culture to all, presents ...
SHAKESPEARE
UP-TO-DATE
MARC ANTONY'S FUNERAL ORATION
JULIUS CAESAR ACT III SCENE II67

                  THE OLD VERSION
Friends, Romans, countrymen,                        THE MAD VERSION
Lend me your ears;                           Friends, Romans, hipsters,
I come to bury Caesar, not to praise him.    Let me clue you in;
The evil that men do lives after them;       I come to put down Caesar, not to groove
The good is oft interred with their bones;                                          him.
So let it be with Caesar. The noble Brutus   The square kicks some cats are on stay
Hath told you Caesar was ambitious;                                          with them;
If it were so, it was a grievous fault,      The hip bits, like, go down under;
And grievously hath Caesar answer'd it.      So let it lay with Caesar. The cool Brutus
Here, under leave of Brutus and the rest,    Gave you the message Cæsar had big eyes;
--For Brutus is an honorable man;            If that's the sound, someone's copping a
So are they all, all honorable men,--                                             plea,
Come I to speak in Caesar's funeral.         And, like, old Caesar really set them
He was my friend, faithful and just to me;                                    straight.
But Brutus says he was ambitious;            Here, copasetic with Brutus and the studs,
And Brutus is an honorable man.              --For Brutus is a real cool cat;
He hath brought many captives home to        So are they all, all cool cats,--
                                     Rome,   Come I to make this gig at Caesar's
Whose ransoms did the general coffers                                         lay down.
                                     fill;   He was my boy, the real and most gone to
Did this in Caesar seem ambitious?                                                  me;
When that the poor have cried, Caesar        But, like, Brutus pegs him as having big
                               hath  wept,                                        eyes;
Ambition should be made of sterner stuff;    And old Brutus is a real cool cat.
Yet Brutus says he was ambitious;            He copped a lot of swinging heads for
And Brutus is an honorable man.                                                   home,
You all did see that on the Lupercal         Which put us way out with that loot;
I thrice presented him a kingly crown,       Does this give Caesar big eyes?
Which he did thrice refuse; was this         When the square cats bawled, Caesar
                                 ambition?                                     flipped;
Yet Brutus says he was ambitious;            Big eyes should be made of more solid
And, sure, he is an honorable man.                                            megillah;
I speak not to disprove what Brutus spoke,   Yet Brutus pegs him as having big eyes;
But here I am to speak what I do know.       And Brutus is a real cool cat.
You all did love him once, not without       You all dug that bit at the Lupercal scene
                                    cause;   Three times I bugged him with the King's
What cause withholds you then to mourn                                             lid,
                                  for him?   And three times he hung me up; was this
And men have lost their reason. Bear with                                     big eyes?
                                       me;   Yet Brutus pegs him with big eyes;
My heart is in the coffin there with         And, sure, he is a real cool cat.
                                   Caesar,   I don't want to double-O what Brutus
And I must pause until it come back to me.                                      gummed,
                                             But, like, I only dig what comes on
                                                                              straight.
                                             You all got a charge out of him once,
                                             So how come you don't cry the blues for
                                                                                   him?
                                             Man! You are real nowhere,
                                             You don't make it anymore. Don't cut out on me;
                                             My guts are in the pad there with Caesar,
                                             And I gotta stop swinging till they round-
                                                                                  trip.

Okay, The Living Bible is a bit of an extreme, so let's look at just a contemporary English translation. I'm of an age that when in high school my dad gave me J.B. Phillips as the contemporary English Bible. It had the good English style from a single translator that helped me improve my own English.
Now, because there's such an impetus any more for really modern translation I also have in my library, the J.B. Phillips New Testament, which I only use on the rare occasion that quoting a modern English version rather than the King James has some benefit. Phillips says, "It was at this time that Barnabas (the name, meaning son of comfort, given by the apostles to Joseph, a Levite from Cyprus) sold his farm and put the proceeds at the apostles' disposal." Barnabas here is given to mean son of comfort rather than of consolation. My dictionary defines consolation 1. comfort. 2. a comforting person, thing, or event. So Phillips gives the same thought with an easier word. In fact Phillips' introduction states that he is translating so that his version has the same effect on the reader as the first Greek manuscripts did way back when. Since Barnabas was a single nickname, not several, and since modern readers are already, and had been for centuries, familiar with the name the son of consolation, Phillips could hardly give him another name and expect it to have the same effect; the most he could do was a variation.
There's probably little reason in my opinion to quote the son of comfort instead of the more widespread the son of consolation; the latter doesn't seem at all a difficult word. Except, say, I had a real slow learner to whom I was trying to convey that Barnabas was a fulfillment of Isaiah 12, "And in that day thou shalt say, O LORD, I will praise thee: though thou wast angry with me, thine anger is turned away, and thou comfortest me. Behold, God is my salvation; I will trust and not be afraid: for the Lord JEHOVAH is my strength and my song; he also is become my salvation. Therefore with joy shall ye draw water out of the wells of salvation. And in that day shall ye say, Praise the LORD, call upon his name, declare his doings among the people, make mention that his name is exalted. Sing unto the LORD; for he hath done excellent things: this is known in all the earth. Cry out and shout, thou inhabitant of Zion: for great is the Holy One of Israel in the midst of thee."
But just because I am cozy with J.B. Phillips, doesn't mean it will be accepted by others. The itinerant campus preacher brother Jed sure doesn't want preaching on that comfort level.
He That Hath An Ear, Let Him Hear68

The apostles effectively used the miraculous in the Book of Acts to gain attention to their message, minister to the needs of people and witness to the power of the Resurrected Christ and the Holy Spirit in their lives. But their main concern was to proclaim a message that would transform lives; this is what is so often lacking in our generation. The gifts of the Spirit have been used to expose sickness and disease, but not sin. Ministers who have proudly proclaimed the presence of the Holy Spirit in their services, have themselves, time and time again, been exposed as hypocrites. Churches have been founded primarily to give people an opportunity to express the gifts of the Spirit such as prophecy or healing, but rarely has this gift been used to bring forth a message that will convict and judge the sinner.
Paul admonished the Corinthians that when the whole church comes together, "If all prophesy, and there come in one that believeth not, or one unlearned, he is convinced of all, he is judged of all: and thus are the secrets of his heart made manifest; and so falling down on his face he will worship God, and report that God is in you of a truth" (I Cor. 14:24-25).
Typically, in churches where prophecy is given free reign, we hear only words of approval and acceptance. Of course, Paul did teach that "he that prophesieth speaketh unto men to edification, and exhortation and comfort" (I Cor. 14:3). However this should not eliminate a rebuke, a strong, or even a harsh word. These words are also edifying and comforting, when received and acted upon.
If brother Jed expects the comfort to be coming out of exhortation, then he'd rather the son of comfort be called the son of consolation in the first place. That's similar to James Dobson advising dating couples not to be too carried away with pseudo-visions leading them to precipitous marriages as would be encouraged by Phillips' "let her be guided by the Lord" rather than simply marrying "in the Lord." Both these translatings by Phillips illustrate Marsh's warning:

Whoever substitutes for an old word of well-understood signification a new vocable or phrase, unsettles, with the formulas into which it enters, the opinions of those who have habitually clothed their convictions in those stereotyped forms, and thus introduces, first doubt, and then departure from long received and acknowledged truth. Experience has taught jurists that in the revision or amendment of statutes, and in sanctioning and adopting by legislative enactment current principles of unwritten law, it is a matter of the first importance to employ a phraseology whose precise import has been fixed by a long course of judicial decisions; and it has been found impossible in practice to change the language of the law, for the purpose of either modernizing or making it otherwise more definite, familiar, or intelligible, without at the same time changing the law itself. Words and ideas are so inseparably connected, they become in a sense connatural, that we cannot change the one without modifying the other.69
Because the Phillips translation of the Bible keeps giving us suspect renderings that look good on the surface but find objection from those familiar in their respective areas, we must in the end use it as commentary, not as authority.
Then there would be the purists who might go all the way back to the (2nd) Wycliffite version (mid 1300's), "Forsothe Joseph, that was named Barsabas of apostlis, that is to seie, the sone of coumfort, of the lynage of Leuy, a man of Cipre, whanne he hadde a feeld, seelde it, and brou3te the prijs, and leide it bifor the feet of apostlis."
Let's try The New English Bible: "For instance, Joseph, surnamed by the apostles Barnabas (which means 'Son of Exhortation') a Levite, by birth a Cypriot, owned an estate, which he sold; he brought the money, and laid it at the apostles' feet." Here Barnabas means son of exhortation rather than the son of comfort/consolation.

After I was graduated from college in Ohio, I headed west and got saved in the Jesus movement and stayed here in Oregon to serve the Lord. My friend Doug is a street preacher on campus who displays his little signs and speaketh unto men to edification, here shown relaxing in front of the pioneer father statue at the U. of O.: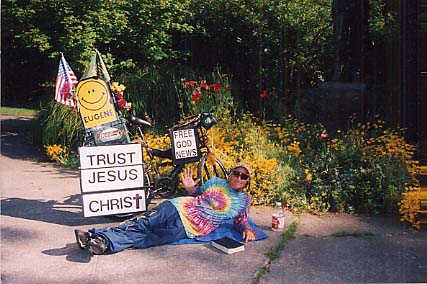 Occasionally brother Jed, based in Ohio, hits our campus and raises the roof, speaking unto men to exhortation after the fashion of the familiar"Bible Jim" here shown sharing the gospel with a physics major at the U. of O.: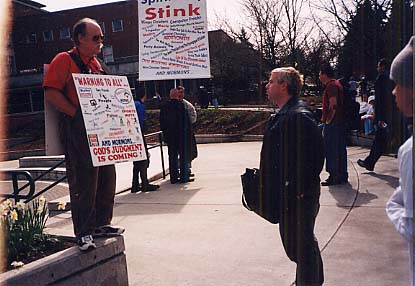 Brother Jed tells his fellow Christians who happen along not to criticize him but to remain available to answer questions of the people standing by. Me, that's what I do, just hang around and answer any concerns addressed to me.

One day a heckler was shouting Jed down. To bolster his position, he decided to ask someone from the audience to agree with him that Jed was a phony. He asked me, "Isn't he a phony?"

I replied, "You're the phony." That's all I said. I didn't preach at him (unto exhortation), or he would have overwhelmed me too. When he tried to debate the point with me, I said not a word (unto edification), or that would have prolonged the distraction. I was just speaking unto men to comfort them that we didn't have to put up with phonies. The heckler slinked off and brother Jed resumed his preaching.

Another time brother Jed was preaching against sin and a homosexual made some comment to me about the Christians' intolerance of sexual diversity. I ended up in a discussion with him about human sexuality, its various expressions, ones that Christians tolerate well enough and ones that are forbidden. Both he and his homosexual friends standing there were impressed that he could have an actual conversation with a sympathetic Christian who nevertheless stuck with the gospel message. His friend even suggested that the fellow might want to join the Christians, they were so reasonable, at which point he made himself scarce. he was rejecting the gospel not the messengers.

The Book of Acts balances some firebrand preachers with Barnabas the son of consolation. To make Barnabas into a son of exhortation too is to unbalance the book from what it was. And how are we to reconcile the two. Well, edification, and exhortation and comfort are brothers just as faith, hope and charity are sisters in the word. According to brother Jed, "a rebuke, a strong, or even a harsh word (exhortations) are also edifying and comforting, when received and acted upon." In other words comfort is a son of exhortation. So Barnabas is the grandson of exhortation but the son of comfort, and since in the Bible sometimes a son is actually a grandson, the two names correspond.

Or we might try the Catholic approach. Since exhortation and comfort are brothers, the son of exhortation and the son of comfort are cousins. We know, or at least the Catholics tell us, that Jesus' brothers were really his cousins. So if we may call these two cousins brothers, we're saying they have the same father after all and the son of the one is the son of the other.

I Timothy 1:4 tells us: "neither give heed to fables and endless genealogies, which minister questions, rather than godly edifying which is in faith: so do." To track various words and their genealogical relationships over and over again so we can accommodate each and every new Bible version moves us away from godly edifying, and at any rate it probably is just not expedient to change the names all of a sudden, although son of exhortation does at least rhyme with the son of consolation, so we'd still have the mutually edifying bonding with names from both versions.

The other question is suppose it's those putative better manuscripts that prompted the change? I don't know, maybe there are better manuscripts somewhere, but they sure haven't found their way into our modern versions. "Wilbur Pickering, author of the Identity of the New Testament Text and recipient of a TH.M. in Greek Exegesis from Dallas Theological Seminary and M.A. and Ph.D. in Linguistics from the University of Toronto says:

The distressing realization is forced upon us that the 'progress' of the past hundred years has been precisely in—the wrong direction—our modern versions and critical texts are found to differ from the Original in some six thousand places, many of them being serious differences... [They] are several times further removed from the originals than are the A.V. and TR [King James Version and its foundation, the Greek Textus Receptus]. How could such a calamity have come upon us ... much of the work that has been done is flawed ...70
"Dean John Burgon, the scholar who has collated the most early New Testament witnesses (87,000), says of the changes in one of the 'new' versions and Greek texts:
Ordinary readers ... will of course assume that the changes result from the revisor's skill in translating—advances which have been made in the study of Greek. It was found that they had erred through defective scholarship to an extent and with a frequency, which to me is simply inexplicable. ... Anything more unscientific ... can scarcely be conceived, but it has prevailed for fifty years. We regret to discover that ... their work is disfigured throughout by changes which convict a majority of their body alike of an imperfect acquaintance with the Greek language.71
"Edward F. Hills, author of The King James Version Defended and graduate of Yale University, Westminster Theological Seminary and Recipient of the Ph.D. from Harvard and the TH.M. from Columbia University says:
Modern speech bibles are unscholarly.72
"The late E.W. Colwell, past president of the University of Chicago and the premier North American New Testament Greek scholar, authored scores of books, such as Studies in Methodology in Textual Criticism of the New Testament. He confesses his 'change of heart' concerning the reliability of readings in the new versions:
... [S]cholars now believe that most errors were made deliberately ... the variant readings in the New Testament were created for theological or dogmatic reasons. Most of the manuals now in print (including mine!) will tell you that these variations were the fruit of careless treatment. ... The reverse is the case.73
"Zane Hodges, professor of New Testament Literature and Exegesis at Dallas Theological Seminary and co-editor of a Greek New Testament refers to new versions as,
[M]onstrously unscientific, if not dangerously obscurantist. The average well-taught Bible-believing Christian has often heard the King James Version corrected on the basis of 'better manuscripts' or 'older authorities'. ... Lacking any kind of technical training in this area, the average believer probably has accepted such explanations from individuals he regards as qualified to give them.74
"William Palmer, scholar and author of Narrative of Events on the Tracts, says:
[Ordinary Christians have little idea [concerning the New Greek text] ... it rests in many cases on quotations which are not genuine ... on passages which when collated with the original, are proved to be wholly inefficacious as proofs."75
..."76
But I don't personally know Greek or have done manuscript research, so let's say for sake of argument that better Greek scholarship has demonstrated that Barnabas was actually the son of exhortation rather than of consolation. But that's a big issue.

"Jeremy's birthday is July eighteenth," she said. "Do the math."
"What math?"
"One more time: He's thirteen years old. He was born July the eighteenth. I was married October tenth."
Nothing. For several seconds, he heard the mothers chatting over one another, one baby cry, one barista call out an order to another, and then it happened. A cold gust blew across Myron's heart. Steel bands wrapped around his chest, making it almost impossible to breathe. He opened his mouth but nothing came out. It was like someone had whacked his solar plexus with a baseball bat. Emily watched him and nodded.
"That's right," she said. "He's your son."
"You can't know that for sure," Myron said.
Emily's whole persona screamed exhaustion. "I do."
"You were sleeping with Greg too, right?"
"Yes."
"And we only had that one night during that time. You probably had a whole bunch with Greg."
"True."
...
"So Greg still believes ...?"
"That Jeremy is his, yes."
Myron was floundering in deep water with no land in sight. "But you said you've always known."
"Yes."
"Why didn't you tell me?"
"Are you kidding? I was married to Greg. I loved him. We were starting our life together."
"You still should have told me."
"When, Myron? When should I have told you?"
"As soon as the baby was born."
"Aren't you listening? I just told you I wasn't sure."
"A mother knows, you said."
"Come on, Myron. I was in love with Greg, not you. You with your corny sense of morality—you would have insisted I divorce Greg and marry you and live some suburban fairy tale."
"So instead you chose to live a lie?"
"It was the right decision based on what I knew then. With hindsight"—she stopped, took a deep sip—"I probably would have done a lot of things differently."
...
The two men looked at each other, comfortable in the silence. After some time passed, Win said, "Tell me."
He barely hesitated. "Emily said I'm the boy's father."
Win nodded and said, "Ah."
"You don't sound surprised."
Win used the chopsticks to grab another shrimp. "You believe her?"
"Yes."
"Why?"
"For one thing, it's a hell of a thing to lie about it."
"But Emily is good at lying, Myron. She's always lied to you. She lied to you in college. She lied to you when Greg disappeared. She lied in court about Greg's behavior with the children. She betrayed Greg the night before their wedding by sleeping with you. And, if you will, if she is telling the truth now, she lied to you for the better part of thirteen years."
Myron thought about it. "I think she's telling the truth about this."
"You think, Myron."
"I'm going to take a blood test."
Win shrugged. "If you must."
"What does that mean?"
"I'll let the statement speak for itself."
Myron made a face. "Didn't you just say I should find out for sure?"
"Not at all," Win said. "I was merely pointing out the obvious. I didn't say it made a difference."
Myron thought about it. "You're confusing me."
"Simply out," Win said, "so what if you're the boy's biological father? What difference does it make?"
"Come on, Win. Not even you can be that cold."
"Quite the opposite. As strange as this might sound, I am using my heart on this one."
"How do you figure?"
Win swirled the liquid again, studied the amber, took a sip. It colored his cheeks a bit. "Again I'll put it simply: no matter what a blood test might indicate, you are not Jeremy Downing's father. Greg is. You may be a sperm donor. You may be an accident of lust and biology. You may have provided a simple microscopic cell structure that combined with one slightly more complex. But you are not this boy's father.
"It's not that simple, Win."
"It is that simple, my friend. The fact that you insipidly choose to confuse the issue does not change the fact. I'll demonstrate, if you'd like."
"I'm listening."
"You love your father, correct?"
"You know the answer to that."
"I do," Win said. "But what makes him your father? The fact that he once grunted on top of Mommy after a few drinks—or the way he has cared for you for the past thirty-five years?"
...
As Win would say, "Showtime."
Myron gripped the ball a little tighter. "Sit down, Jeremy. We need to talk."
The boy's face was serene and almost too beautiful. He slid the backpack off his shoulder and sat down. Myron had rehearsed this part. He had looked at it from all sides, all the pluses and minuses. He had made up his mind and changed it and made it up again. He had, as Win put it, properly tortured himself.
But in the end, he knew there was one universal truth: lies fester. You try to put them away. You jam them in a box and bury them in the ground. But eventually they eat their way out of coffins. They dig their way out of graves. They may sleep for years. But they always wake up. When they do, they're rested, stronger, more insidious.
Lies kill.
"This is going to be hard to understand—" He stopped. Suddenly his rehearsed speech sounded so damn canned, filled with "It's nobody's fault" and "Adults make mistakes too" and "It doesn't mean your parents love you any less." It was patronizing and stupid and—
"Mr. Bolitar?"
Myron looked up at the boy.
"My mom and dad told me," Jeremy said. "Two days ago."77
Seems to me that if "Right-on" is really using a gift of paraphrase, and this name meaning changes so, that he'd want to give us the straight dope in his sermon, some kind of explanation. I mean, I even wrote to "Right-on" about the name change of Barnabas from my KJV, and since he stopped for several weeks after Acts 4 before picking up with Acts 5, he'd had plenty of time to research it, and the narrative of Acts 5 could easily have been started by recapping the end of Acts 4, giving us a fuller explanation of the shift of fathers in the name of Barnabas. But nada. He went on with the NIV as if it were gospel.
This is not a criticism of "Right-on", because as we've noted, balancing the old with the new is no mean feat, and not everyone can do paraphrases well; I'm just suggesting that maybe there's another mechanism at work here besides the gift of paraphrase.
I had girlfriend who against all my advice not to cave in to this fellow who wanted sex with her, went and got herself pregnant and had a baby by him. Then he split the scene, but I still kept company with her to a lesser degree. Well, her baby has blue eyes, but neither she nor that guy has blue eyes. My friend Doug the street preacher was telling me about her baby and then he noted that I have blue eyes. Then he started jiving me about maybe I wasn't being so good after all, so I made up a proverb for him: "The man who practices celibacy doesn't fear a paternity suit." The Good Book calls Barnabas the son of consolation. Well, maybe he is, despite what other speculative evidence to the contrary.
The introduction to the New International Version Bible says that their group of scholars has translated the authors. Now, my lecture book on translating warns that we should translate the reader, not the author, so that what we read in the translation will have the same effect on us as the original did on its readers; otherwise, by translating the author, we could end up with only an imitation of the original. The NIV in not translating the reader, but the writer, is not under the rule of Phillips, no, they would give us a different name from the son of consolation if in their scholarly opinion it was closer to the Greek even though in giving Barnabas a second nickname they were affecting the reader differently than the original writing did theirs in attributing but one nickname to the man. So in the NIV we read, "Joseph, a Levite from Cyprus, whom the apostles called Barnabas (which means son of encouragement), sold a field he owned and brought the money and put it at the apostles' feet." Here, if I'm a contestant for the Bible quiz, or someone else not familiar with the NIV, and I'm asked, who was the son of encouragement, my answer would be David from (I Samuel 30:6b) "but David encouraged himself in the LORD his God." My second choice would be John the Baptist from (Matt. 11:12) "And from the days of John the Baptist until now the kingdom of heaven suffereth violence, and the violent take it by force." He's the one encouraging us to take it. His preaching style is more like brother Jed's:

In the cobbled market square, she noticed an impromptu evangelist set up his soapbox and start rabbiting on about judgment and sin. It made her feel vaguely guilty just hearing him, and as she went into the station, she contemplated asking one of the uniforms to go out and move him on. There must be a law against it somewhere on the books. Disturbing the peace of an overworked DC?
Charity prevailed, and she went up to her office. It faced the car park out back, so she wouldn't have to listen to him there.78
This contrasted to Jesus' gentler style. (In verse 17 he contrasts their two styles.) Like the lecture book says, the son of encouragement is an imitator of the son of consolation, Barnabas.
Now, my dictionary79 defines exhort v. urge strongly, and encourage v. urge on. As Phillips turns the KJV's the son of consolation into the son of comfort so does the NIV turn The NEB's son of exhortation into son of encouragement. Bravo! Easier English, although what's the point? But now we have not only more familiar terms, but concepts (in this easier English) that we're liable to come across in day to day life. A fellow gets invited to visit his old college roommate who is now a publisher in a distant city. He arrives at his building.

Still lugging his suitcases, he headed through the doors to the pool area. To his immediate right was the Jacuzzi, currently unoccupied. Around the mammoth pool directly in front of him were arrayed countless plastic yellow-and-white chaises lounges, many of which were occupied, by men and women uniformly gorgeous, uniformly tanned, and in uniformly superb physical condition, all of them apparently in their twenties and thirties. There were a few people splashing about and schmoozing in the pool itself, and one blond Adonis in an absurdly skimpy, absurdly bulging bikini swimsuit was perched on the high diving board. Just as Ezra looked up, the man leapt into space, hung there a heart-catching second, and executed a perfect swan dive.
I've died and gone to heaven, sure, but heaven ain't my kind of town. There's been some celestial screwup. The whole spectacle before him looked like an elaborate tableau vivant advertisement for a sybaritic way of life. What's wrong with this picture? Why, I am.
Just then, he noticed, with a momentary coronary arrhythmia, what could only be called an apparition: Coming his way was quite simply the most beautiful woman he had ever laid eyes on, in the barest string two-piece he'd ever seen outside the pages of Sports Illustrated, constructed of some loosely knit tan fabric. Her skin was the color of a perfectly roasted Thanksgiving turkey, her copious cascading hair the color of butter. Her body was at once so firmly toned and so bounteously voluptuous it seemed to belong to some other, more evolved species of primate than the people he knew; her abs alone were sufficient to force any thinking person to reconsider the eugenic advisability of passing on his own DNA. And she had a moist honeyed patina, probably consisting merely of tanning lotion and perspiration, which nevertheless lent her a radiantly lubricous aura.
Ezra stood there, frozen, literally breathless, his mouth suddenly dry, trying not to stare too obviously, hoping she would take her own sweet time about passing him by and continuing into the lobby. Simply to be in the vicinity of such a presence was an intensely erotic experience, and, frustrating as it must ultimately prove, he didn't want it to end. Ever.
She smiled. At him. Although he recognized that this was no more than an act of social charity, his life now felt complete. He succeeded in offering her a twisted rictus in return.
And then, her mouth started to move, and sounds seemed to be issuing from it. "Are you Ezra Gordon?" was what the sounds, impossibly, sounded like.
"I beg your pardon?"
She repeated the question. There could be no doubt.
"Yes. Yes I am. Ezra Gordon is my name." And being a total zhlub is my game.
"Hi. I'm Tessa. Isaac asked me to keep an eye out for you." Responding to his pop-eyed look of blank idiocy, she added, "Isaac Schwimmer."
...
The phone rang. Ezra was unsure whether to answer or not, and then heard Isaac's answering machine click on. The outgoing message went, simply, "Talk!" Then Ezra heard Isaac's voice: "Ezra, if you're there, pick up the damn phone."
He crossed to the phone, on a counter near the refrigerator. "Hi, Ike. This is some place you got."
"A poor thing, but mine own. Tessa make you comfortable?"
"She made me uncomfortable."80
Tessa was assigned to make the guy comfortable, just as one might, by being a perfect specimen of a Christian, make someone (un)comfortable with the gospel—a son of consolation.
Then the guest visits his old friend's work place.
But what seized Ezra's attention was the art on the walls. Handsomely framed, it was a series of lurid, crudely rendered paintings of a grossly sexual nature: One portrayed a bosomy, sneering, black-haired, black-lipsticked woman in some sort of skin-tight leather jumpsuit, holding a whip in one hand and a thick, grotesquely twisting python in the other; another showed a long-haired nude woman from behind, squatting before a grimacing athletic blonde Marine with his tunic in place but his trousers around his ankles, obviously (although not quite explicitly, her shaggy head blocking the view) fellating him; a third featured two unnaturally nubile girls, one chained naked to a dungeon wall in cruciform posture, the other, in boots and hot pants, sucking on the nipple of her companion's gargantuan right breast. And there were four or five more, all along similar lines.
Ezra turned to Isaac, who was smiling expectantly. "Collect Renoirs, do you?"
Isaac laughed. "Not bad, huh? Wouldn't have them in my house, of course, but they've kind of grown on me."
"But, what are they?"
"Well, that one's called 'Bondage Ho'.' Over there is 'Booty Bait.' 'Dungeon of Delight.' 'Rotten to the Corps.' This one here's my favorite, it's—"
"No, I mean, what are they? We're not talking limited-edition seriographs."
"Oh." Isaac laughed. "I see. I thought it was obvious. They're book covers. Guy named Winkler does most of 'em for us." "'Us?'"
"He's great, isn't he? I mean, he's lousy of course, he can't draw worth shit, but he's got that certain something. Bypasses the eye, goes straight for the groin."
"But who's 'us'?"
"Why, the Isaac Schwimmer Press. Obviously. You know, in this business, it's the cover that sells the book. We` can't rely on Publishers Weekly or Amazon.com to give us a boost."
"'This business'?" Ezra rubbed his eyes. "Isaac, you're a pornographer?"
"Of course I am!" Isaac affirmed happily. "And business is booming! I'm king of the f___ing dung-heap!"81
The guy's cover artist has a direct style like brother Jed's that goes straight for the juggler, as a preacher might be encouraging sinners to repent or the cover artist encouraging more sales. I work in sales and I have my own place, so I know what is meant by encouraging sales and what is meant by making a guest comfortable, and I know the son of comfort is not the same animal as the son of encouragement. Look, when I want to read the Bible in modern English, I read J.B. Phillips which isn't ancient but what I had in high school, and when I hear someone reading the popular NIV also in modern English and he's reading son of encouragement when I am reading son of comfort, the ideas clash and we are not communicating. But I've expected God to be preserving his word through translations, so I see His hand in this mixup, like: "Everything that happens in this world is an expression of the intentions of an intelligence superior to us, which in the end, though its ways and byways are difficult to follow, orders everything for the best,"82 and I think of the earlier lesson at the tower of Babel when the men's speech became confused and they figured they would have to maintain the separate tongues after all; likewise I conclude that God wants us to keep the separate sacred dialect and not have all our English, Bible and current, be in the modern dialect. This conclusion follows from examination of the test verse which can't be brushed off as allowable paraphrase.
There are other objections to tagging Barnabas as son of encouragement. One of the foremost would be the way tags can backfire.

Prentice Marshall Gates III, known as Skipper, is the San Francisco district attorney. We used to be partners at Simpson and Gates. His father was Gates. He's now running for California attorney general. His smiling mug appears on billboards all over town under the caption "Mr. Law and Order." Two years ago, he won the DA's race by spending three million dollars of his inheritance. I understand he's prepared to ante up five million this time around.
...
Rosie cups her hand over the mouthpiece. "He says it's urgent." ...
With Skipper, everything is urgent. "If it's that important," I whisper, "it can wait."
She smiles and tells him I'll call as soon as I can. Then her grin disappears as she listens intently. She puts the chief law enforcement officer of the City and County of San Francisco on hold. "You may want to talk to him," she says.
"And why would I want to talk to Mr. Law and Order this fine morning?"
The little crow's feet around her eyes crinkle. "It seems Mr. Law and Order just got himself arrested."
"I'll take it in my office."
...
I present my state bar card and driver's license to Sergeant Jeff Ditto, a mustached, olive-skinned sheriff's deputy who administers the intake center with a steady hand. He studies my bar card through deep-set eyes. When I explain to him I'm here to see Skipper, he furrows his brow. "'Mr. Law and Order' is in booking," he says. He punches some buttons on his computer keyboard and makes a phone call. "He'll be up in a few minutes."83
A rich guy with a fancy name has an all-purpose nickname Skipper. He's the district attorney running for attorney general and comes up with another nickname Mr. Law and Order. That name sounds great in his campaign, but when he gets himself arrested and goes through the criminal booking procedure himself, it becomes a liability to be called Mr. Law and Order there in jail.
Likewise Barnabas the son of consolation is a great moniker. Then we start calling him son of exhortation which works well enough as the church is forging ahead, but then he has his falling out with Paul whereupon Mr. Exhortation off somewhere in obscurity doesn't sound so good.
And while son of exhortation might lack the expediency of being the correct term, at least it sounds like the usual one, so we still feel unified as believers reading it, but son of encouragement sounds like a different name entirely and so does not edify, taking away another justification for it as paraphrase.
Finally, perhaps we even have available some writings of Barnabas so we can decide for ourselves. The epistle to the Hebrews was not signed, but judging from its content and audience it could well have been penned by a Levite. Its style is different from any other NT book, so it probably was not written by Luke, Paul, Peter, James, or John. If Paul was "Mercury" the chief speaker, writing all those NT epistles, well, "Jupiter" could well have written one heavy one. Then we notice in Hebrews the one place in the NT that encourages hospitality to strangers. Anyone from Cyprus I've ever known was hospitable to a fault.
Okay, there are exhortations in Hebrews, but even they come with heavy consolation. Sure we must give the more earnest heed to the commandments but they were given by a powerful Lord, higher than the angels and more priestly than the Levites. Yes, without faith we cannot please God, but God definitely rewards those who diligently seek him. Yes, we're to assemble and exhort one another, but that's as the glorious Day approaches. And even those strangers we entertain might well be angels. There is so much consolation given throughout the book of Hebrews that I'll just leave it to my reader to either remember what he's read or go back through it and see. Even if you only pick up only half of it, it's quite enough. As for his exhortation, it is both gentle "as unto children"—(Hebrews 12:5a) "And ye have forgotten the exhortation which speaketh unto you as unto children"—, and brief,"in few words"—(Heb. 13:22) "And I beseech you, brethren, suffer the word of exhortation: for I have written a letter unto you in few words."—If he is long on consolation and short on exhortation, then his moniker does not become what the NIV says, but the KJV. I would have no problem naming the writer of Hebrews the son of consolation.
He reminds me of my own writings, the way he goes on and on, example after example. In fact, part of the reason I'm offended with the NIV's treatment of Acts is that it misdirects our understanding of the guy whose ministry I take after while treating the apostles and all better, just as in I Corinthians it misdirects our understanding of mixed marriages, where I date mostly nonbelievers—although some of them get saved—,while leaving other approaches to marriage and all intact. Christians with other approaches can seem to read these books happily, but why should I have to go along with it? And misdirection is dangerous.
I'm thinking about the girl who was forced to break up with her nonchristian fiancé-of-nine-years because she was given the light from the NIV, and of another guy who liked modern versions and became unbalanced by a prolonged aggressive approach to preaching to the neglect of his basic needs. Both these people became what might be termed shipwrecked under the influence of these modern versions in the precise places where I am raising objections.
I believe the problem is giving heed to fables, as quoted earlier, the one that says people spoke the KJV way in 1611, but our language has changed since and we need to update our Bibles. When the facts are different, that people in 1611 no more used the KJV dialect for ordinary talk than we do today, as has been shown earlier on this page.
The result of trying to "update" the language of our English Bible reminds one of an historical precedent: "Then comes the ill-fated city of Babel, with its problematic urban architecture."84 The NIV has a problematic scholarly architecture. They've imported Paul's admonition to not be unequally yoked from II Cor. into I Cor. so that it nullifies Paul's teaching that mixed marriages are sanctified, and they've taken the son of consolation who introduced the converted Paul to the church at Jerusalem and made him into a son of exhortation, more like Saul himself who breathed out threatenings. From an architectural standpoint, this is problematic, because it's a leader's spirituality in knowing how to run his family that gives us confidence in his vertical connection to run God's church, and it's in sharing a nickname for a group member that gives us confidence we belong to the same group. So we lose confidence in the NIV as a Bible.
And then how are we going to use this book with faulty architecture to support our position on important doctrinal matters, like the afterlife?

My drug rundown used up four or five sessions, and then it was on to past lives. I was asked to go back as far as I could to try to remember my earliest incarnation. Sitting across from my auditor, I searched the back rooms of my mind.
Then my growing skepticism about Scientology and my training as an actor took over. I began to remember details from a past life in ancient Greece. I commanded a warship returning victoriously to Athens. My father was the king, and I was his only son. When I had cast off, he had made me promise that on our return we would set white sails for victory and black sails if I had been lost. I had forgotten to change the black sails for white, and my father, in despair over my death, killed himself.85
Before people take seriously what our Bible says on doctrinal matters, say the afterlife, they may want to know if they can have confidence in the book in the first place. That sister who was made to break up with her fiancé-of-nine-years because the NIV said a Christian is not allowed to marry a nonChristian was quite in despair. In the Old Testament, to be sure, God's people were required to be more separatist, but in the NT those black sails should be exchanged for white.
When I was a young Christian I went around trying to convince everyone to become a Christian. I got so few results and there were so many people remaining to be saved, that I got quite in despair. Then I decided to just abide in the vine, develop my gifts, do my part, and let God worry about who all gets in. if all Christians were required to be exclusively exhorters, it would be cause for despair.
Instead of shelving these modern versions, I find the Christians around me using them quite a bit, some Christians. We even get preached to from the NIV regularly. It's as if we were taking seriously its introduction saying it's "suitable for public and private reading, teaching, preaching, memorizing and liturgical use."
He remembered the collection of Caesar Zedd's self-help drivel that had occupied a place of honor in the wife killer's former home in Spruce Hills. Cain owned a hardcover and a paperback of each of Zedd's works. The more expensive editions had been pristine, as though they were handled only with gloves; but the text in the paperbacks had been heavily underlined, and the corners of numerous pages had been bent to mark favorite passages.86
Such a place of honor for mixed up stuff is spoken of in Proverbs, (Prov. 26:1) "As snow in summer, and as rain in harvest, so honour is not seemly for a fool." When I hear the NIV preached from in church it's like seeing a snowstorm out my window in the middle of summer, and Christians quoting it is like when we need to finish carrots at the cannery and the farmers can't bring them in for the rain. The one is a snow job and the other of no benefit. Although Christians certainly have liberty in their reading material, and a preacher on his preaching material, it can be abused.
Besides leaning something about a preacher's exemption from conformity when I attended that church where I was about the oldest in the Lord, and everybody used the KJV except the pastor, there were several other beneficial learning experiences. We were studying Classic Christianity in Sunday school. Picture us all sitting in a circle with our KJV's, except the pastor, reading from a book on classic Christianity where the author was quoting from every version but. I eventually spoke up, that if this is supposed to be classic why don't we hear from the classic itself?
Next we started studying 1st John. When we got to love, our pastor told us that our English word love doesn't communicate what's meant, so we would need to use a Greek word agape. He even used it in a sentence, "I agape so-and-so." I protested that what was the point of having the Bible translated into English if we can't use English words? After class we discussed it more; he said that Greek has four words that can be translated love in English and we can't know what is meant unless we read it in Greek. His example was Jesus thrice asking Peter if he loved him, the third time changing the question from agape to philao, a more brotherly sort of love. (Actually, as I understand it, these words for love were used by the Greeks somewhat interchangeably.)
He doesn't understand our English very well. In this language love can mean different things, so we learn to tell from the context. In our language repetition cheapens a heavy word. In the song that Doris Day sang about "The Little Green Man," a space- alien kept following her around saying, "I wuv you; I wuv you," until finally he said, "I don't wuv you any more." Peter's answer that Jesus knows he loves him wouldn't carry as much weight as it would if he'd answered him the first or second time.
Likewise in English if we want to give weight to a word that has been cheapened by repetition, we come up with a synonym. Take the song "Cherish." A guy wants to tell a girl that he really loves her, but because she might misconstrue love, he decides to say cherish instead. The whole song is about it. Similarly in our Bibles, especially in I Cor. 13, to convey the kind of love God has we read love as charity.
And yet in bible dialect we have four words that can be used for one ordinary English word to give it more precision. You can be thee, thou, you and ye, depending on whether the second person pronoun is subject, object, singular, or plural.87 There is but little value to teach a smattering of Greek vocabulary and grammar to someone who doesn't know Greek and never will, but there is great value to teaching the occasional point of bible dialect to someone who already knows and uses regular English.
A lot of our clergy in general has got this reversed. I met a man who was taught the way the Greeks used three different words for love, who then reprimanded his young son for saying, "I love ice cream." He told the kid to say only that he liked ice cream, but I or anybody could have understood what the kid meant because in our language we color love by its context.
I heard a radio preacher use the expression "you all" in his message quoting the Bible and then say that he did so because in the original it was a plural you, but our Bibles don't have a plural you, so he said, "you all." But our Bibles do have a plural for second person, both subject (ye) and object (you).
It would be bad enough a general ignorance of bible dialect 2nd person pronoun, but the modern translators themselves don't even get it. NIV Preface: "As for the traditional pronouns 'thou,' 'thee' and 'thine' in reference to the Deity, the translators judged that to use these archaisms would violate accuracy in translation. Neither Hebrew, Aramaic nor Greek uses special pronouns for the persons of the Godhead. A present- day translation is not enhanced by forms that in the time of the King James Version were used in everyday speech, whether referring to God or man." Yes, but a good deal has been made of the issue of whether God is just one God singular or a multitude of gods plural, and we've already studied the issue of changing established formulas in language. When a gospel group sings in church and uses songs from the Psalms that I am familiar with and then all of a sudden I hear what in the bible dialect is a plural pronoun—you—for God, I am temporarily shaken up, and although I tell myself they are changing dialect, not case, it still interferes with my enjoyment of the song. It might be that translators of a modern version might want to use modern pronouns, but they should have at least considered first the implications, which the NIV ones did not.
As we went along at our Bible studies at that church where every member was from a different denomination, we eventually got to a spot where a woman there told us her belief related to a passage, where only her particular kind of churches believed that particular way, nobody else. I explained to her why believing that way wouldn't hold water, giving her something to think about, planning to return to the subject again. People don't change their beliefs all at once; it's sometimes a process, and anyway, the pastor later thanked me for making the attempt. But he wasn't content merely to have told it right and then go on, but he took that woman to task right there in front of the class. Of course, she never returned.
My only point here is that patience comes with maturity, not necessarily with being pastor. People are not always going to be changing their cherished false beliefs just because some preacher man lays the right way on them. Oh, he should be preaching it right in the first place, but getting straight a lot of times is more a process of maturity than of convincing arguments, and if we are looking to benefits from the maturing process, then we want to be quoting important matters from the mature version.
The final lesson I learned at that particular church was misunderstood by the ladies, but then I had no idea the pastor's wife would be opening and reading his mail. To the pastor and me a birthday celebration was just something we had to put up with to please the women, and we could use illustrations from it to our hearts' content. The church was trying to develop a leadership structure (from scratch) and was soliciting input from its members. To illustrate ways of slicing up that leadership pie, I used the way the women cut up a birthday cake, an illustration I would have avoided if I'd known they'd be reading it. Oh, well.
I was nearing social overload by the end of church. First I rode with a bus crowd to a dining establishment where I breakfasted with my friends. Then I rode with another bus crowd to the grange where we I started out with the people for Sunday school. After that we had church, and after church our regular love feast where I had my fill of food and more fellowship. After all that, I headed for the door to seek some solitude, but, no, they had one more activity they insisted I stay for: a fellow's birthday celebration. This seemed to me a good example of what the apostle Paul meant when he said he had a desire to depart which was better for him, but to stay was more needful for the rest. I stayed.
So we sang happy birthday to this guy and then we got in line for the cake his wife and the pastor's wife had baked for him. Now, he was an enormous person, and he got the first piece, of course. Then we were each given a piece in turn, cut by the guy's wife down the cake. I was the thin guy at the end of the line, having already eaten my fill at the love feast, but required to stay for cake. Finally she got to my piece which was a corner piece with icing all around. A look of fondness passed between the wife and her husband and she passed that big piece to him, who had already finished his first piece by now.
Well, I had not wanted to be there in the first place, but had acquiesced to their request that I join them. If they were going to pass me by and give my turn at the cake to someone else, then I wasn't going to stay. I headed out the door sans cake.
That seemed to me a good illustration for the leadership discussion. The apostle Paul was required to stay, in print at least, for one final act, his epistles. The passing along of Paul in his writings is that last big piece of cake, taken care of in translation by God's appointed men, Wycliffe, Tyndale, & King James's appointees for our English Bible. That big piece with all the icing on it fell to them. What falls to the pastor, fat with responsibilities, is the little piece that comes after it, making the Bible dialect clear in places where it's fuzzy to the modern ear, which he can easily do as he goes along in his weekly sermons. What has happened, though, is he was given an irresistible temptation of a retranslated Bible in more modern English which is clear already, and he will no more pass that by than the fat man the icinged cake. And the elders, broadly speaking, who traditionally have little enough to do in the church leadership get passed over in their role of bringing us a Bible translated in a suitable dialect. The way I put it, which unfortunately was not appreciated by the pastor's wife for the metaphor it was, was that the woman cutting the cake was a reverse Robin Hood, robbing from the skinny to give to the fat.
As I was decided to leave the party at that point, Paul himself by his own criteria won't back up the leadership at fault with its own house, which is what the NIV does in I Corinthians, nor from Acts is it in solidarity with the other apostles.
If we let the minister have the big piece of cake picking the version he reads from, then the smaller piece falls to us to try to make that version functional. The NIV has its virtues. It promotes positive thinking.

That was when he saw the blue car behind him. She wore sunglasses, but he recognized her instantly. Walker only kept his eyes on the mirror for a second because now he was worried, and he didn't want her to notice him staring at her. She was f___ing following him. There was no other explanation. No wonder she looked scared when he walked past the mailboxes. Shit. Why the hell was she interested in him? Whatever the reason, Walker knew it wasn't good.
In prison Walker had read Say Yes to Success by Eddie Rollins. Walker wasn't much of a reader, but this book cited example after example of hopeless losers like him- self who were able to transform themselves into successful people by following a program of easy-to-learn techniques. Walker found it fascinating. Long ago he'd given up all hope of ever having any kind of decent life, but maybe he shouldn't have. Eddie wrote that if a person gives up, then he deserves to be a loser. The wrong attitude was the major roadblock to success. After he finished the book, Walker used a coupon at the back to send off for audiotapes, which he listened to in his prison cell over and over again. Soon several of the other guys were listening to the tapes, and eventually they pooled their money to buy a set of videotapes, which they watched with fascination in the cell of a guy in on a second-degree murder conviction who had his own VCR.
Walker had now read all of Eddie Rollins's books and viewed all of his tapes. He felt that his life, though not a roaring success by any means, was a hell of a lot better than it used to be. He wanted to keep it that way. One of Eddie's main points was that successful people had the ability to turn negative situations into positive ones. Walker didn't know that this woman was going to create a negative situation, but he was inclined to think that was how it would turn out. Whatever happened, he sure as hell was going to do his best to turn the situation around and make it positive. Soon as he got home he planned to pull out one of Eddie's books and see if he could find some suitable advice.
...
Walker pulled Win, Right Now off the shelf of the small bookcase. He opened it to one of his favorite chapters, "The Challenge of Overcoming Negativity," and started reading. Parts of it were hard for him to understand. Eddie Rollins was an intellectual. Walker had read some sections over and over for years, hoping that some of the more complicated ideas would become understandable to him over time.88
Primarily, the NIV takes its many negatives and turns them into positives in its Preface. The best Greek scholars who have looked at it say the manuscripts used were perfectly awful. The Preface tells us they used the best manuscripts. Philologists (and my own observations) tell us it uses more difficult English than the KJV. The NIV Preface says it's clearer. Philologists tell us a translator should translate the reader not the writer, but the NIV preface says they translated the writers to be sure they were accurate. The NIV fails several of the Biblical tests for high leadership, but the Preface tells us it's suitable for the many uses we reserve for a reliable Bible. Its very popularity says we cannot take seriously books like my friend's list of its many faults. About the best spin we could put on it is to take its Preface at face value and disregard its critics for not following the masses.

She stayed a couple of steps behind him, not too close. Walker was acutely aware that the gun was still cocked. He hoped to hell she wouldn't pull the trigger by accident. Once he crawled through the window, he would make a move when she tried to follow him. No way she could climb in that window and keep the gun on him the whole time. Maybe it was lucky as hell he forgot the key. Eddie Rollins said that all men get their lucky breaks, it's just that not everybody knows how to recognize them.
...
She glanced at her watch. "Time's a wasting."
"Shit, lady."
"Take off your shoes," she said.
"How come?"
"Just do it."
Walker bent over, untied one shoe, then the other. He slipped them off his feet.
"Now take the laces out of the shoes."
Walker looked at her for a moment and then did it.
"Tie the laces together. Then use the laces to tie your ankles together."
Walker wrapped the laces around his ankles and the started to tie them.
"Wrap them around again," she told him. "They're long enough."
Walker wrapped he laces around his ankles again and stated tying a knot.
"Make it tight," she said. "And knot it twice."
He finished and sat up in the chair. "That okay?" Christ, he was in a fix now.
"Yeah," she answered. Keeping the gun on him, she reached with one hand into her purse and pulled out a pair of handcuffs. Jesus. She got those f___ing things on him and his chances of getting out of this mess were going to be zero. There might always be a way to turn a negative situation positive, but Walker was starting to think this present situation would tax even Eddie.89
The real problem occurs when we try to introduce the NIV with all its failings into a traditional service. Even the NIV Preface with all its accolades doesn't go that far, to say they made the NIV a traditional book. I mean, like, I've got my "special commemorative American Bicentennial Second Edition Holy Bible, [hoped to] become a treasured heirloom in your family , to be handed down to your children and grandchildren. ... The text is the beloved King James Version with American spelling and pronunciation aids. Accompanying God's Holy Word, to be illumined by such company, are carefully chosen features. A beautiful Presentation Page identifies with our God and Country theme. There is a convenient eight page Family Register section, ... A special eight-page section reproduces famous Documents in American history. The official portraits of all American Presidents are beautifully reproduced in full color in an outstanding thirty-eight page section that your family will prize. A unique pictorial section dealing with our Bible's development illustrates the Bible as our most precious heritage. Also included is a special section showing the importance of the Bible in the Christian home." Traditional Bibles use the KJV. oh, I've seen shelves full of NIV Bibles at the store, and even NIV study Bibles, but it just hasn't been around long enough to be considered traditional. Even at the Lutheran church I attended before I came here, although they had completely gone over to the NIV, still they resorted to the KJV for their traditional ceremonies.
The reason I am writing to the elders is that "Right-on" wouldn't follow my suggestion to rely mostly on the KJV in the traditional service. Personally, I don't think the NIV should be used in any service, but if he wanted to use it in a contemporary service, I'd allow him the liberty, especially since he does on occasion refer to the KJV. I acknowledge that ministers want some liberty, but they can only take so much with the Bible for the mere nature of the beast. To start with, it's not of any private interpretation. The pastor of the totally mixed church, when he went to pastor his first church found that they all used the KJV and insisted it was the only Bible through whom God spoke in English, but he stuck with his own version so as not to be of a "spirit of conformity." It just doesn't work that way; the Bible is something to which we all conform, as brought to us by the church elders from way back.
He eventually had to leave that church, so he started one of his own from scratch. Every new member was from a different denominational background, but each used the KJV. He stuck with his own version because he said it would be more understandable to the new member. They had a big evangelical drive to get new members, and the only one they got was me. He stuck with his guns. His church fell apart, his wife divorced him, and he moved to Florida, but I still talk to his son sometimes.
A traditional service is similar. "Right-on" exercised his liberty in instituting a traditional service, but the NIV isn't traditional, and it might have trouble qualifying as a Bible. The Bible, and the KJV, is something that's come down to us; we don't have the liberty to change it.
Maybe there are better ways to look at the issue.

"You know who Eddie Rollins is?" He asked he.
The woman thought a minute. "I've heard the name," she said.
"He's my favorite writer. He wrote a book called Dare to Succeed. That's his most famous one. Another book he wrote is called Anybody Can Be a Winner."
"That's right. He's the self-help, positive-thinking guy. He does those TV infomercials."
"Yeah. See, Eddie Rollins says you can turn even the most negative situations into positive ones. The situation we got here is pretty goddamn negative, but I figure there's got to be some way to make it positive. Eddie Rollins could."
"I'm sure there's a way to do that," she said.
Walker ate the first bite of his corn and put the plate down on the floor next to his chair. "Sometimes I wonder if this is some sort of a test for me," he said.
"What do you mean?"
"Like I've got the worst possible situation in the world, but if I turn it around and make it positive, maybe my whole life will change. And maybe Eddie will write about me in one of his books. He does that, you know. Talks about people that have succeeded in life using his ideas. Maybe me and you'll be in one of his books." He smiled broadly at her.
"Maybe," she said. "It's certainly possible."
Walker thought of something. "Only one problem," he said.
"What?"
"Eddie'd have to use different names for us. Otherwise we both might be in some trouble with the law."
"I guess you're right. We'd still know it was about us, though. It wouldn't matter to me."
"Yeah. Me neither. And Eddie'd know our real names and everything." He smiled at her, and she smiled back at him.
"Maybe I could help you," she said.
"How's that?" he asked.
"If we both wrote him letters about what had happened, it might have a better chance of getting in a book."
He said, "You'd do that?"
"Yes."
It was a nice thing for her to say. She was a nice woman, he guessed, even if she had been out to kill him and Barton. Maybe she wouldn't have been able to do it. Lord knows, it wasn't easy.90
You know, a lot of confusion can happen just because we fail to see ourselves in various biblical examples. I mean, do they have to have our names in them?
I was visiting another friend a recent convert who lives up the street from our church. I asked him if he had a Bible. He said he was given a couple of them. I asked if he had one that was the King James Version. He said he had a Gideon's New Testament which was King James and that was the only version he could understand. I showed him my Gideon's New Testament, same as his except a different color.
He asked me if he should be reading it. I told him it was a good idea and suggested he start with John. He told me the assistant minister had suggested he start with Mark because it was easy to understand. I told him they were both good places to start. We made plans to go buy him a full King James Bible one day.
He went and got the two Bibles that were given him, the New King James Version donated by a minister and a Contemporary English Version donated by someone else. He told me he didn't want them and asked me to get rid of them for him. Well, they were his Bibles to do with as he chose, and I sure don't have much respect for those versions, so I did as he asked. Not wanting to carry them all the way home, I dropped them in the church dumpster I passed.
I was discussing a sermon with another friend and mentioned that while I liked the sermon, I would have appreciated it more if it were in the KJV. He said that the NIV and the other modern versions have serious problems. He said his daughter showed a list of changes to her Assembly of God church and that came back to the KJV from the NIV as a result. He loaned me a 700 page book on the subject which enumerates many more serious problems than I was aware of. His whole family seems to be against the modern versions. He'd taken his objection to a higher level than the other, and for different reasons. He has his family actively opposed to them, not just himself.
Me, I've wound up my objections to a higher level still. The way Zondervan twisted the apostle Paul's words, I figure they should be sued, but Paul doesn't have a copyright. No problem. We were studying another Zondervan book in our Friday morning men's group, a book that our assistant minister had recommended, when I found they had plagiarized Walt Disney, and then turned it around to make him look bad. Not good. Well, Disney had a copyright, so I sent the book to Walt Disney, told them where to look, and included a signed letter from the publisher admitting their source. Disney sent me a thank-you letter, although they won't reveal anything about their confidential investigation, but it can't be anything good for that publisher.
On the other hand, "Right-on" and various guest speakers all seem to use the New International Version or ones like it. Furthermore, we have printed on our bulletins that we are a "family of Bible believing Christians." Now, I maintain that it is hard to understand how all three can be true. If our preachers are preaching from the new versions, they are defining them as our Bible, which then some members are going about to trash, at various levels, so how can we as a family say we believe it?
Each following his light has led to a royal mixup, which suggests we are following the course of the builders of the tower of Babel. They didn't want to have separate languages which they were supposed to do to disperse their families upon the earth, so they were teaching everyone to speak the same Hamitic tongue. We don't want to maintain a separate Bible English dialect so we are promoting English Bibles in our regular dialect. (But it was from some of the Shemitic languages that God's word came to us, and the state of those languages in the fullness of time is in English most accurately reflected in our Bible dialect.) God confused their tongues so they had a hard time understanding each other. God has confused our modern Bible translations to where the one I'm most familiar with is in absolute contradiction to the one our leaders are using now, and following our lights has led to a questionable interpretation of being a family of Bible believers. They left off building the tower, and our men's group got suspended too. They realized they would have to maintain separate languages, and I believe maybe we might be starting to realize we should try to maintain a separate Bible dialect too.
Then there's the matter of trusting our leadership.

Finally, he told Denise he was out of gin. She was so suspicious that she went into the kitchen to look for herself, which pissed him off. If he said he was out of gin, why'd she have to search the place? Walker had read in one of Eddie's books that two people can't have a successful relationship if they don't trust each other. He'd have liked to read that to Denise and see what she thought. Probably go right over her head. Walker did have a quart of Gilbey's under the sink, but Denise didn't look there, so then she believed him.91
Sure if they're preaching all those neat ministries in Acts, sounds real good, but what about the name of Barnabas there in the background? I mean, it's supposed to remind us of what Noah's name meant, and so give us a bit of a clue that God considered Barnabas a righteous dude. I wouldn't have so much a problem with trust if a contemporary name were limited to a contemporary service.
And the NIV still says what it says about mixed marriages in I Cor. 7, and people still might read it, and if we give the NIV too much honor they might feel they have to follow it. I mean, the unwarranted honor we give the NIV if we include it in even traditional services can give false confidence in its sayings.
Walker knew that around six Denise would be by. The thought made him shudder. He had to find a way to end things with her. One of Eddie's books talked a lot about screwed-up relationships between men and women and how to improve them. Walker decided he should read that section again, but he really wasn't much interested in improving things with Denise any- more.92
I don't mean to undermine the trust and freedom given a minister of the gospel, but I feel my request for a traditional version in a traditional service has some merit too.

When he got in the car Walker said to her, "Eddie Rollins would be proud a us. We're turnin' this situation into something more positive every day."93

                                           Yours in Christ,
                                           Earl Gosnell

---
Home
KJV vs NIV
Baptism of the Holy Spirit
Barnabas
Synonyms
Written Text/Oral Tradition as history.
NOTES: www.bibles.n7nz.org/niv//notes.htm Copy notes for references to citations when you copy any of these pages.