He just needed some peace and quiet at the beginning of his day. At the fishing hole. He'd miss her if she weren't there at his return. Couldn't she just let him have that and enjoy his company when he got back?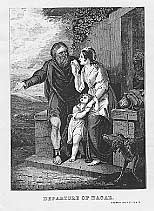 I don't know why people try to intrude on my quietude before the service getting ready to worship. I'm happy to talk to people after the service when we all gather to fellowship. Can't people just leave me in quiet beforehand?
Then we run into troubles with: (I Tim. 2:12-14) "But I suffer not a woman to teach, nor to usurp authority over the man, but to be in silence. For Adam was first formed, then Eve. And Adam was not deceived, but the woman being deceived was in the transgression." Let me give some examples. I'd been taking a new convert under my wing and visiting him and going over the basics of a Christian walk. He was doing quite well. Then he decided to go against one of my pieces of advice that he'd agreed with before. He told me this, and I told him he'd be better off sticking to the plan. He then went and looked up an elder who told him it would be okay for him to change course, and the new convert came and told me what the elder had said. I had to carefully consider my reply because I didn't want to refute an elder--even though I didn't agree with him--and on the other hand I didn't want the brother to discount good advice I'd given him. As I was pausing to consider my reply, a woman sitting next to him piped up in favor of the elder raising it to a new emotional level which tore our friendship and delayed for more than a year my ability to minister to him. As it turned out the matter came up in the elder's Sunday school class that very day, and he didn't have a good answer to it, so there was no real conflict other than an emotional level I couldn't deal at, caused by that woman. It wasn't her role to teach. It wasn't her place to say anything. Eve's ideas brought us into a world of trouble, and it is very difficult at times to undo the trouble women cause by opening their mouths.
That's teaching. Now for usurping authority, I'll give another example. I walk to church, as a result of which I'll arrive warm with my blood flowing and enter a building with stuffy air. So I'll leave my coat on the rack and go back outside for some fresh air at a comfortable--to my exercising body--temperature. By and by, a car pulls up and a woman gets out. She has been sitting in the stale air of her car where her circulation hasn't been going to keep her warm, but she's had the heater on. Now she's taking a short walk across the parking lot to go inside to another stale warm environment. She's not going to notice the stale air, but it will seem cold to her going from one heated environment to another, having been seated and still. She looks at comfortable old me with no coat on and she tells me I'm cold, that I should wear a coat. I correct her and say that she is cold, but she insists I am cold as she enters the building.
See what I am trying to say. It's okay for her to comment on her own temperature, how she feels, and I can just ignore her, or if I do recognize a chilly temperature, do something about it. She wouldn't have tried to usurp authority. But, no, she insisted on telling me what I needed to wear.
And finally we get to, (I Peter 3:6) "Even as Sara obeyed Abraham, calling him lord: whose daughters ye are, as long as ye do well, and are not afraid with any amazement." Women are supposed to be helpful--do well--and keep an even keel, not get spooked by how men run their world if they see something happen they don't understand.
Allow me to relay some advice from a different context, but it's how women see things, from a book by women to women.
Maintain Your Sense of Self

646

So it becomes a balancing act. When two people come together as in a marriage or other long-term relationship, there's the man, the woman, and the relationship; all three deserve care and support. If either of the people or the relationship is neglected, that entity will be lost. One woman shared this analogy with us: "I heard someone say the other day that we all juggle balls in our lives-- what you have to do is decide which are the rubber ones that are going to bounce back. 'I can let that promotion go, I can let that night at the movies go, I can let that vacation go'--because it will come back. I have a chance to do that again. But this one is a crystal, not a rubber ball, and if I let it go too many times, it's not going to bounce back, it's going to smash. So there's no way you get to have everything."
If we both men and women involve ourselves with some ministry over a period of time, we'll have working relations, an entity of itself. Now, if, say, at fellowship time, one talks to various people, those are like rubber balls: if you slip up in conversation at times--and we all do--the balls will bounce back and you can pick up another conversation with them next week. It's not quite the same working with someone in a ministry made of crystal. What I mean is that while the church is very strict and adamant about not allowing divorce, it is lax about teaching women how to behave towards men so that they want to stay with them. And while marriage is a commitment well nigh impossible to get out of, helping with a ministry commitment is easier to quit, and for that matter, I may not have made any verbal commitment to it. So if a woman working with me goes about tormenting me, I'd readily quit. If she has plenty of conversational rubber balls on a Sunday to occupy herself, she might think twice about throwing around the crystal one.
If our traditional service is not traditional except for music, still that doesn't mean I can't personally worship traditionally as much as I can fit it in. Traditionally women, say, are not to be with their chatter a distraction to the men upon entering the service. I like peace and quiet upon arriving for church. That doesn't mean I can't greet someone who wants to say hi, but it is more along the lines of compromise, where what does it hurt me? If on the other hand, our church wants to push for more energetic greetings, then I believe they should for their part try to strike a balance by at the same time dignifying the service to reduce female distractions and preaching from the KJV to elevate our scripture language and consequently our general language we use in all this vigorous fellowship we would then have. If the church is unwilling or unable to make those changes too, then I think they should just leave us to seek our own balances in our greetings and such.
---
Home
Holy Spirit
Barnabas
Written Text/Oral Tradition as history.
Women's Role in Church, the early teaching
NOTES: www.bibles.n7nz.org/niv/notes.htm Copy notes for references to citations when you copy any of these pages.